Can Snapchat, Instagram and Pinterest help marketers reach millennials?
Instagram and Pinterest are big with the millennials advertisers want to reach. Large brands such as McDonald's are already experimenting with the social networks, but it may be too soon to tell if the new features deliver customers or are just the latest gimmick.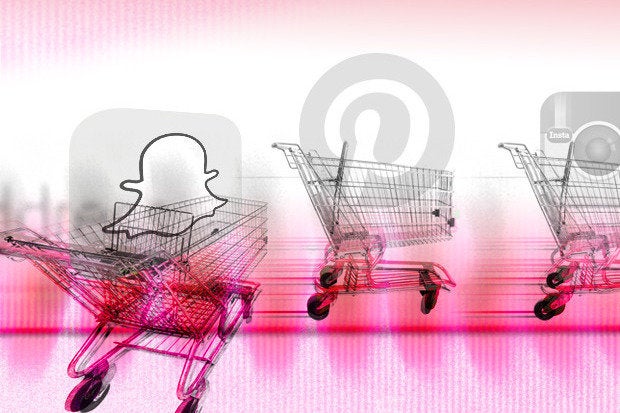 Snapchat, Instagram and Pinterest arrived on the social scene after Facebook and Twitter, but they quickly made their marks, especially among millennials. After reaching critical mass, the three companies are attempting to monetize their services by rolling out new features for advertisers. Select large, global brands, including McDonald's, are testing the new features and could be role models for other marketers interested in the apps. However, all three services are still relatively young, and it might be too early to tell if ad campaigns are worth the investment.
Swipe for Snapchat sponsored geofilters
Some people might think Snapchat is only for millennials who want to send quick selfies, but the reality is the popular service offers a variety of value. It has evolved from a service with disappearing photos and video clips, into a destination where you can watch collections of clips from cities or events, called Stories, and catch up on news from a few major sites, including CNN and ESPN.
Most recently, Snapchat introduced sponsored "geofilters" and advertisements in Stories. The features may be a turnoff for some users, but they represent a milestone for advertisers, especially those looking to reach millennials. Of the top social media sites, Snapchat has the highest share of users ages 18 to 24, and it is tied for the highest share of users who are 25 to 34 years of age, according to comScore.
McDonald's is the first company to use Snapchat's sponsored geofilters. The fast food chain, which already had a presence on Snapchat, rolled out a series of geofilter designs that show up if you post new content when you're at or near a McDonald's. Companies such as GE and Lilly Pulitzer also launched sponsored geofilters, and the production company behind the film "Ted 2" posted a movie trailer and geofilter option on Snapchat. (CIO.com reached out to Snapchat for pricing details on the sponsored geofilters and ads but the company declined to comment.)
It's obvious to users that these ads are sponsored, but what's not so clear is the benefit to advertisers. Based on Snapchat's large number of millennial users, advertisers can expect a large number of views from target demographics, but the ads are not currently clickable. Today, a click or tap on Snapchat advances you to the next photo or video clip and essentially serves as a skip button, instead of directing you to a relevant website or coupon.
"If you want an ad module that works, an un-clickable ad won't give anyone much of anything," says Sucharita Mulpuru-Kodali, vice president and principal analyst at Forrester Research.