Comcast Xfinity Home subscribers can now add Nest thermostats and other connected-home devices
Some installations can be DIY projects, but anything involving the alarm system must be installed by a Comcast technician.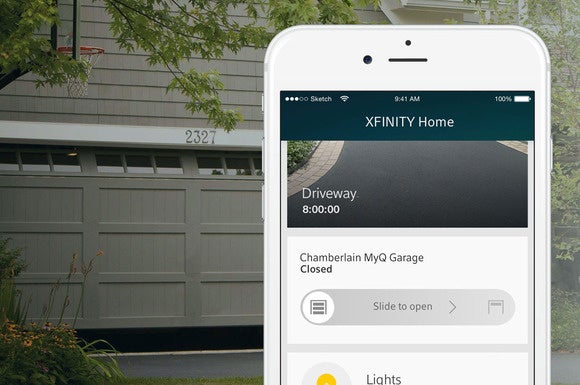 Wondering if your garage door is open or closed? Chamberlain's opener can let you know via Comcast's Xfinity Home system. Credit: Comcast
Lighting controls, on the other hand, could be more problematic—particularly for early adopters—because Z-Wave won a lot of early market share while the ZigBee standard floundered. The ZigBee camp has since gotten its act together and the standard is enjoying a lot of new support. And while Comcast supports Kwikset smart locks, it doesn't support Yale or Schlage models.
The lack of a doorbell camera is another hole in the Xfinity Home offering, though Herscovici said the company is testing Skybell's product. Comcast doesn't support geofencing, either. Some connected-home/home-security systems can automatically disarm your system and turn on your lights when you near your home with smartphone in your pocket, and do the reverse when you leave. And if you're an Apple fan, Comcast doesn't support HomeKit. Herscovici said the company was "exploring that possibility for the future, but I think some of the hardware requirements Apple imposed on its partners slowed things down."

Comcast supports the ZigBee protocol in addition to Lutron's proprietary technology. Credit: Comcast
Being a cable-TV company, on the other hand, affords Comcast the opportunity to offer something that most connected-home/home-security providers can't: Integration into the set-top box connected to your television. In addition to controlling your Xfinity Home system from an Android or iOS app, you can also manage it from your TV, and that includes being able to see the feeds from your security cameras.
Comcast has been in this space for three and half years, and is pricing its Xfinity Home offering aggressively to grow its customer base (Herscovici said the service had half a million subscribers as of last year). A connected-home system costs $20 per month and a connected-home system with home security costs $40 per month, plus the cost of installation. Customers are required to sign two-year contracts, and early-termination fees apply, but the monthly fee does not go up if you add devices to the system.
"We want to encourage our customers to add as many devices as they'd like," Herscovici said. "We don't want to create incremental barriers in driving adoption to the mass market."