Curb home-energy intelligence system promises to help reduce your electric bill
This little box connects to your circuit-breaker panel and identifies energy hogs in your home.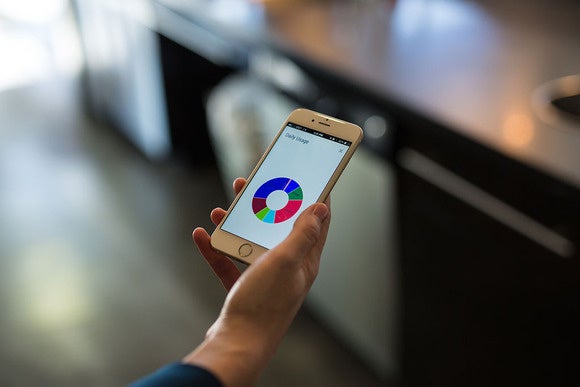 CURB. Curb's mobile app pushes notifications about energy usage and energy saving tips to your iOS or Android device.
The surge of interest in the Internet of Things (IoT) market has led to a deluge of smart home devices, but it's still very much a modular segment. What I mean by that is you might own a connected thermostat from Company A and a smart lighting system from Company B, along with various Internet-enabled appliances that do everything from cook a succulent steak to brew the perfect cup of joe. There's nothing wrong with that approach, but when it comes time to keeping track of the energy use of each device, it's a juggling act, and that doesn't even take into account non-connected devices.
Enter Curb, a whole-home energy-intelligence system that monitors all the electronic gadgets you own through a single piece of hardware. Once connected to your breaker box, Curb's sensors get busy identifying the unique electrical signatures of each electronic device in your home. It uses software algorithms to detect how much energy different rooms and individual devices use in real time. For example, Curb knows when the kids turn on their videogame console or someone forgets to turn the bathroom fan off.
The data Curb collects is pushed to your iOS or Android device so that you can see and manage your electricity usage. It essentially offers a much more detailed energy breakdown than what you receive from the power company, which is typically just an overview of how many kilowatts you consumed in a given month and how much you owe.
Curb's mobile app lets you view trends and historical data. It also gives you recommendations on how you can reduce your energy bill, both through product upgrades and by suggesting behavioral changes, and will estimate your monthly energy costs. Many individual smart devices do the same thing, but where Curb is different is in being able to monitor your entire home, including devices that aren't connected to the Internet. Your smart oven can't do that.
Why this matters: Curb is a unique product that attempts to bring order to a somewhat disorderly market. Without it, home owners are forced to fire up multiple apps to piece together an outline of their monthly energy use, and that's only for smart devices.
There's definite value in what Curb offers, and there's not really anything else exactly like it on the market. The closest competitor is probably Smappee , which also hooks into your breaker box and purports to reduce a typical consumer's energy bill by 12 percent. Curb acknowledges that it's not the first home energy-monitoring system, but claims it's the most advanced one out there.