Developers getting more help with heterogenous processors
The HSA Foundation is promoting specs to ease programming for SOCs.
To enable that, chip makers need to design products that conform to the specifications, which is why this week's announcements are important.
Imagination said it will eventually support HSA across all of its PowerVR GPUs, as well as its I-class and P-class MIPS CPUs. It will also offer an HSA-compliant fabric to link SOC components together.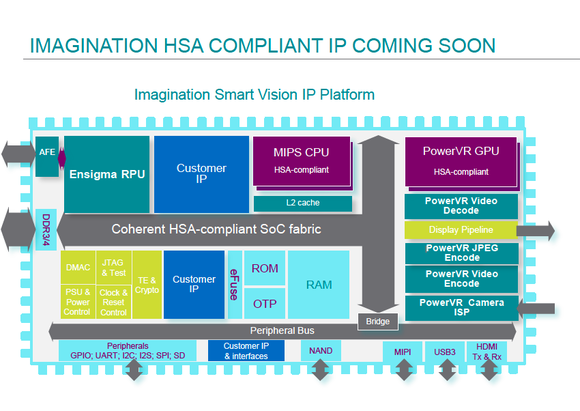 Imagination's "smart vision" platform will be HSA-compliant. Click on image to enlarge. Credit: Imagination Technologies
It's not just mobile gadgets that can benefit. HPC applications for drug and disease research, as well as deep learning applications, will also benefit from HSA, said AMD's Greg Stoner, who's also managing director of the HSA Foundation.
The goal is for programmers to be able to continue using their preferred languages, he said, like Python, C++ and OpenCL.
One hurdle is getting support for HSA in operating systems. The Linux kernel already supports some HSA features, Moorhead said, but other platforms still need to come on board, including Android and Windows.