Europe's space laser communications system will launch this week
EDRS will transmit data at 1.8Gbps via laser between satellites.
The EDRS system on Eutelsat 9B will be operated by Airbus Space and Defense as a commercial service. A second satellite dedicated to EDRS is scheduled to be launched in 2017.
The system was tested successfully in 2014 when the Sentinel-1 satellite sent an image back to earth via Inmarsat's Alphasat. The latter satellite carried an older laser communications terminal, and the transmission was intended to prove the system could work.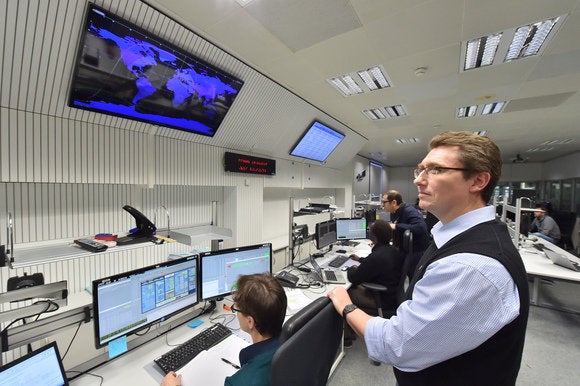 J Mai/ESA
Staff at ESA's Space Operations Centre in Darmstadt watch as the Sentinel-1 and Inmarsat's Alphasat linked up using laser signals across almost 36 000 kms on Nov. 28, 2014