Henge Vertical Dock review: Your Mac laptop stands tall
When I did a review roundup of Thunderbolt 2 docks last May, I decided not to include the Henge Vertical Dock. (This review looks specifically at the Henge MacBook Pro with Retina Display Vertical Dock.)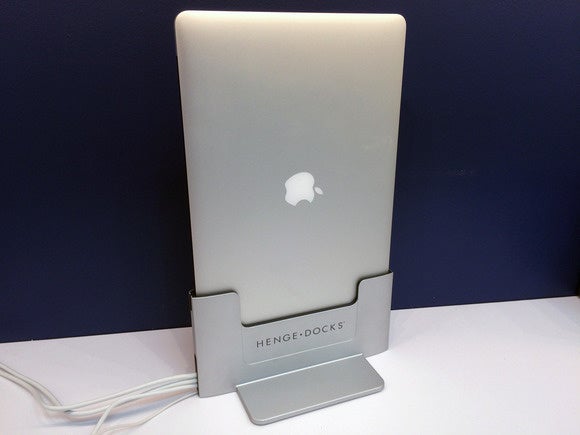 When I did a review roundup of Thunderbolt 2 docks last May, I decided not to include the Henge Vertical Dock. (This review looks specifically at the Henge MacBook Pro with Retina Display Vertical Dock.)
Like the docks in the roundup, the primary purpose of the Vertical Dock is to provide a quick way to connect and disconnect devices to your Retina MacBook Pro. However, unlike the docks in the roundup, the Vertical Dock doesn't provide additional ports for connecting devices. (Henge's Horizontal Dock does provide additional ports, which is why it was mentioned in the roundup as an upcoming product.)
The Vertical Dock is a dock, after all, perhaps more true to the idea of a "dock" than the ones in the roundup. Since a few people have asked me about it, here's a look at the Henge MacBook Pro with Retina Display Vertical Dock.
Cable setup
Cables coming out the back of the Vertical Dock correspond to the Retina MacBook Pro's ports on the laptop's MagSafe 2 side. But before you slide your laptop in and connect your devices, you need to do a little bit of reconfiguring on the Vertical Dock to have it properly set up for your needs. It's not difficult to do, fortunately.
First, you need to thread your MagSafe 2 adapter through the Vertical Dock's power adapter port, which involves fitting a Henge-provided plastic sleeve on the MagSafe 2 connector, removing the Cover Anchor on the side, unscrewing an anchor screw, threading the plug into the Vertical Dock's port, screwing in the anchor screw, and replacing the Cover Anchor.
But you may not want to replace the Cover Anchor just yet. The second thing you have to do is only required if you want to be able to use Thunderbolt devices. Henge's website says the Vertical Dock is "Thunderbolt ready," which means it is fitted for Thunderbolt cables that don't come with the Vertical Dock. Instead, it has a pair of Mini DisplayPort cables. If you want two Thunderbolt connectors, you need to buy Thunderbolt cables (Apple sells a 0.5 meter cable for $29; Henge doesn't sell Thunderbolt cables), remove the Mini DisplayPort cables from the Vertical Dock, and then replace those with Thunderbolt. Installing the cable is a process similar to that of the power adapter.
Docked MacBook Pro
When sliding the laptop into the Vertical Dock (while facing the front of the Vertical Dock), the laptop's Apple logo needs be facing to your left with the top of the logo pointed toward you. This will line up the laptop's ports with the Vertical Dock's connectors.