Here are the details of the Surface Book and Surface Pro 4 chips, and why they matter
Know what you're buying, before you open your wallet.
With identical graphics cores, the main difference between the Core i5 and the Core i7 appears to just be pure clock speed, so the better deal for performance per buck goes to the Core i5 chip.
Sometimes Intel turns features on or off based on where it wants the chip to fall in its performance hierarchy. For example, some Core i7 chips may contain its vPro technology, while some Core i5 CPUs may not. With the Surface Book, both CPU models will support vPro which enables manageability in a corporate IT environment.
From a pure performance perspective, based on how previous Intel model numbers have gone and my testing of the desktop Skylake chip, I predict that you might see a 15-percent difference between the two based on CPU-intensive chores. (Yes, and like a meteorologist, you can't hold me to it unless I'm right.)
Therefore, you'd probably be fine buying the Core i5 version of the Surface Book with discrete graphics and 256GB SSD for $1,900 instead of shelling out $2,100 for the Core i7 Surface Book with discrete graphics and a 256GB SSD. Most of you won't notice the difference unless there's some other key difference between the configurations that I'm missing.
What about the CPUs in the Surface Pro 4?
Unlike the Surface Book, here you should choose wisely. While the CPUs in the Surface Book don't differ dramatically, the SP4's brains matter far more.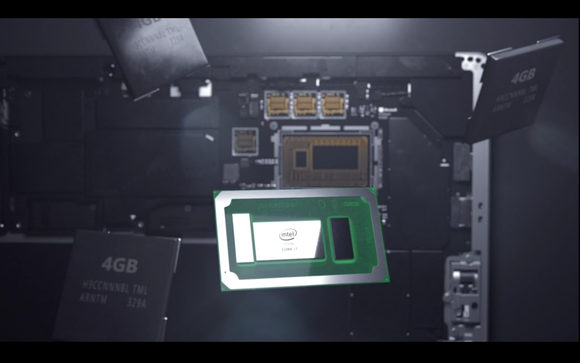 Your CPU choice on a new Surface Pro 4 will matter more than on the Surface Book.
The highest end Surface Pro 4 uses Intel's Iris Graphics with 48 execution units and should offer rather decent performance. If you read page 4 of my Skylake Core i7-6700K review, you'll see that the desktop chip with its Intel HD 530 graphics—a step down from the Surface Pro 4 with the Core i7—pushes 54 fps in Tomb Raider when set to normal and at 1366x768 resolution. I don't think it's unreasonable to expect the Surface Pro 4 to be close to that or possibly exceed it (there are differences in cooling and memory bandwidth that could impact performance). Basically, "light-duty" gaming is definitely a feature of the Core i7 Surface Pro 4.
The mid-range Core i5-based Surface Pro 4 will be slower, but in the same performance ballpark as the Core i7 unit in, say, Photoshop. But it will take a definite back seat in graphics performance, which means "lighter duty gaming" or graphics tasks.
The really interesting changeup is that Core m3-6Y30 part within the entry-level Surface Pro 4. It won't be as fast as the two faster SP4's in any CPU task, such as Photoshop or video encoding, and it'll also be third-place in graphics, too. But the significantly lower power consumption—and the significant boost in battery life—may be worth the tradeoff.
Previous Page 1 2 3 4 Next Page