History of Apple and Microsoft: 4 decades of peaks and valleys
The decades-long relationship between Apple and Microsoft is packed with ups and downs, but it also shaped the evolution of personal computing. The companies have again cozied up to one another, and this time they have a new endgame: enterprise.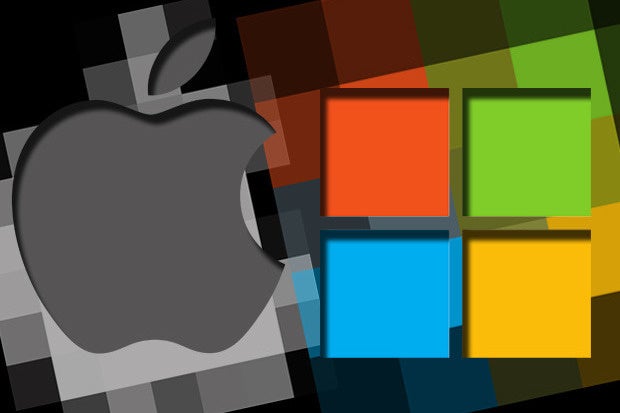 The on-again, off-again relationship between Apple and Microsoft began in earnest in the late 1970s, during the dawn of the PC era. The hot and cold periods were often tied to the personalities of the companies' founders and longtime leaders: Steve Jobs and Bill Gates. Today, Apple and Microsoft are much different companies, with new leaders who don't lug along the baggage that comes as a result of nearly 40 years of fierce competition.
The following events, from periods of harmony and acrimony alike, define the long, rocky relationship between the two modern-day technology giants.
Youthful innocence of the early '80s
During the first Macintosh's development and early years of production, Microsoft was a critical Apple ally. The software pioneer created important programs for Apple's PC in the early '80s. "We had more people working on the Mac than [Jobs] did," Gates said of the early years, according to Walter Isaacson's biography, Steve Jobs.
At an Apple event in 1983, Gates told attendees Microsoft expected to earn half of its revenues selling Macintosh software the following year. And when Jobs asked Gates if he thought Mac would become another standard in personal computing, Gates praised the platform: "To create a new standard it takes something that's not just a little bit different, it takes something that's really new and really captures people's attention. And the Macintosh, of all the machines I've seen, is the only one that meets that standard."
Isaacson's book also detailed just how quickly the relationship between the two companies soured when they started to develop competing OS software with graphical interfaces. Jobs lashed out at Gates during a meeting later that same year and equated Microsoft's plans for Windows to theft. (Xerox PARC originally developed graphical interfaces, not Apple, but for Jobs that was beside the point.)
Isaacson also described the Microsoft founder's response to Jobs's accusations. "Gates just sat there coolly, looking Steve in the eye, before hurling back, in his squeaky voice, what became a classic zinger. 'Well, Steve, I think there's more than one way of looking at it. I think it's more like we both had this rich neighbor named Xerox and I broke into his house to steal the TV set and found out that you had already stolen it.'"
12 years of Apple without Jobs
Before the end of 1985, Windows 1.0 was released, and Jobs was ousted from Apple, the company he founded nine years earlier. Microsoft then went on to dominate the PC industry while Jobs founded NeXT, where he spent the following 12 years building computer workstations for higher education and business.