How Wayfair and Lowe's will tap Lenovo's Tango phone to spruce up your space
The augmented-reality smartphone will let you see how purchases will look in your home before you buy them.
Home decorating is both an art and a science. You want a new end table, couch, bed, or even a refrigerator to look right and to match your room's aesthetic. But it also has to fit the space it's going into, which means taking precise measurements and remembering to take that information with you to the store. Even then, your mind's eye might not present an accurate picture of how that purchase will look when it's inside your home.
The online furniture store Wayfair and the home-improvement retailer Lowe's plan to make all of this easier with Lenovo's Phab2 Pro smartphone. Powered by Google's Tango technology, the Phab2 Pro is pitched as being capable of "seeing" the space around you. At the recent Lenovo TechWorld, Wayfair and Lowe's demonstrated two apps that tap into this cutting-edge concept.
Before you shop for a new couch, refrigerator, or what have you, just point Lenovo's phone at the space where you want to put it and the apps will show you what the product will look like in that space. You'll also be able to capture precise measurements of an area and then walk into a Lowe's store with those dimensions.
The Lenovo Phab2 Pro
With a 6.4-inch screen, Lenovo's Tango phone is big. Google's Tango technology will tap its sensors, cameras, and Snapdragon 652 processor without the need to connect to connect to outside resources, such as a GPS satellite.
The phone is able to measure distance, recognize items, map locations, and of course perform indoor measurement and navigation. Lenovo says it'll be available in September for $499. It sounds like it will be a little unwieldy, but when you consider what it can do, that might change your mind.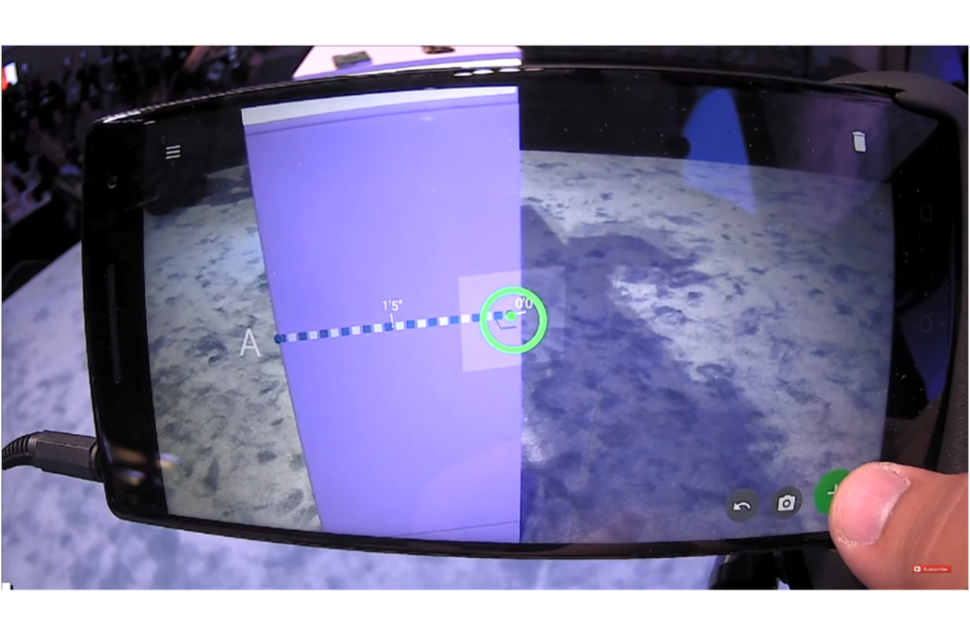 Lenovo Using Lenovo's Phab2 Pro to take measurements.
Wayfair sees what you need
Mike Festa, head of Wayfair's research-and-development lab Wayfair Next, says his company's WayfairView app has the potential to transform the shopping experience. Picking a new end table, bed, or another accessory is something that you can actually "see," as the phone will overlay the item over a live view of the room you wish to put it in.
"Shoppers will be able to view a particular room in their home through the lens of the Lenovo Phab2 Pro, select one or more Wayfair products, and virtually place the products in the room to see how it fits and looks within the space," said Festa. "Shoppers can also move and rotate products to visualize various layouts and perspectives. Finally, when ready to make a purchase, shoppers will be seamlessly connected to Wayfair's shopping app in Google Play. We want to help our customers better visualize our products, to make the online shopping experience even easier."