How Wayfair and Lowe's will tap Lenovo's Tango phone to spruce up your space
The augmented-reality smartphone will let you see how purchases will look in your home before you buy them.
We've always been able to figure out how something looks. Even looking at a catalog and using your imagination you can get a picture of what that new item will look like when you get it home. Seeing a representation of it in real time will be a game changer.
"WayfairView allows shoppers to check the scale of products before they purchase to facilitate home-improvement planning, from furniture pieces and décor to ceiling lamps and chandeliers," said Festa. "Shoppers can also see how items match their current décor and can even rearrange virtual furniture to visualize a new design for a particular room. Shoppers can also save and share photos of products in their space for future planning. WayfairView also allows shoppers to quickly and easily compare various products by seeing how they actually look and fit in their homes."
There's a lot of functionality packed into WayfairView, which certainly will have a learning curve when it hits the market. But the potential is there to really appeal to those who are enthusiastic about home design.
Lowe's Vision app
The home-improvement retailer's custom Phab2 Pro app is called Lowe's Vision. When I saw it demoed at Lenovo TechWorld, I found myself wishing it had been available when I had to replace my refrigerator earlier this year. Just point your phone at the space where you want to put the appliance, and the app will show you how different models will fit and look.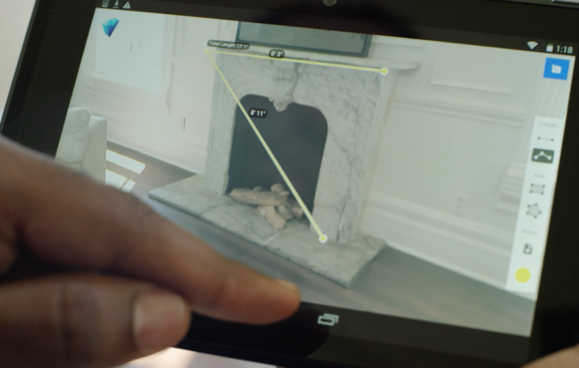 Lowe's Measure your fireplace or other items in your house with Lowe's custom app for Google's Tango platform.
Executive Director of Lowe's Innovation Labs Kyle Nel said Lowe's sees the Tango phone as the kickoff of its larger efforts to use augmented and virtual reality in space planning.
"With Tango, for the first time, we can tap the power of 3D in our customers' smartphones to solve longstanding challenges to visualizing plans for home improvement," Nel said. "Phab 2 Pro is significant because it makes Tango accessible to the everyday customer. This technology is an important step forward in our vision for how AR and VR will shape the way our customers design, build, and enjoy their homes."
Lowe's plans to sell the phone both online and in its brick-and-mortar stores. A hardware store is an unusual place to buy a smartphone, to be sure, but having the phone on display will be one of the best ways to expose customers to the capabilities of its Tango app. Ideally, Lowe's employees will be able to demonstrate its features, so that potential customers can get a firm grasp of its unfamiliar capabilities.
Few products positioned as "game changers" live up to the hype, but these demos left me optimistic about this Tango phone's future.