Indie games leave E3 for a press event of their own
The first annual Horizon conference showcased a ton of exciting indie games, including new games from noted developers Robin Hunicke, Keita Takahashi and Phil Fish.
E3 is dominated by the biggest names in games--Sony, Nintendo,Microsoft, and other such 800-pound gorillas. As a result, independent game makers have a hard time getting noticed amid all the fanfare. So a few of them decamped from this year's E3 and held their own press conference at a nearby art museum.
They're calling it Horizon-an intimate event for indie enthusiasts to talk about games that might otherwise get lost amid the sound and fury of E3 proper. The event delivered brand new games and a few surprising announcements, a strong start for an indie press conference borne out of a random conversation between Horizon organizer Brandon Boyer and pal Cory Schmitz (a noted artist who helped design the Horizon artwork). Boyer kicked off the conference from an auditorium deep within the bowels of the LA Museum of Contemporary Art, which hosted Horizon and ispublishing an original documentary series about the art and business of game design.
We already knew about many of the games touted at Horizon. Double Fine's Greg Rice took the stage to show a new trailer and gameplay demo for Broken Age, the upcoming adventure game notorious for breaking funding records on Kickstarter. Double Fine is also partnering with the money wizards at Indie Fund to publish at least two additional games after Broken Age.

Below is a beautiful, mysterious game with music by Jim Guthrie and visuals inspired by Swords and Sworcery HD, one of Capybara's earlier games.
The guys from Capybara Games dropped by Horizon to share more details about Below, a roguelike game being published by Microsoft Studios for Xbox One. Below challenges players to step into the boots of an anonymous wanderer delving into the catacombs beneath a mysterious island-it looks hard. As in, "no tutorials and no dialogue and no way to avoid dying a hundred times while you try to figure out what's going on" hard.
A few other familiar faces dropped by the Horizon stage, including Media Molecule reps showcasing their upcoming papercraft-inspired Vita game Tearaway and Die Gute Fabrik's Doug Wilson with new gameplay videos from the soon-to-be-released SuperFriends game collection. Like any good E3 press conference, there were no actual games to play-just a litany of developers gushing about their offerings and playing trailers for the audience.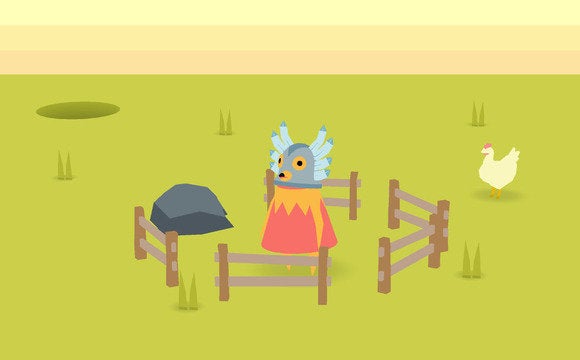 Kachika is a quirky little game from Ben Esposito that challenges you to solve puzzles by digging holes in the ground.
But the tail end of Horizon contained some unexpected news, most notably that Robin Hunicke-one of the developers behind Thatgamecompany's Journey-and Katamari Damacy creator Keita Takahashi are teaming up to make a new game. What that game will be is still a complete mystery, both to the general public-and seemingly to Hunicke and Takahashi. Keep an eye on their indie company Funomena for more details in the coming weeks.