Is the 'rugged' Galaxy S7 Active worth an extra $100?
The latest 'ruggedized' smartphone from Samsung is now available, and it packs a ton of high-end features in a hardened form factor that's built to last. But should you go rugged or choose the more stylish and affordable Galaxy S7?
Samsung and AT&T this month released the latest "ruggedized" Galaxy smartphone, the Galaxy S7 (GS7) Active. The new phone is nearly identical to the "regular" GS7, with a few key differences. It's designed to stand up to more abuse than its sleeker, more delicate GS7 and GS7 edge counterparts. It has a bigger battery and an additional customizable side button, along with some other design departures. The Active version also costs $100 more than the base GS7.
Here's how to tell if the tougher, more expensive GS7 Active smartphone is right for you, or if you'd be better off with the better-looking GS7 or GS7 edge phones.
Galaxy S7 Active price and availability
First things first, if you're not an AT&T customer and have no plans to become one, you can stop reading right now. The GS7 Active is unfortunately an AT&T exclusive. You could purchase the device off-contract for $794.99 from AT&T, and then unlock it, but you'd have no guarantee that it would perform as expected on another network.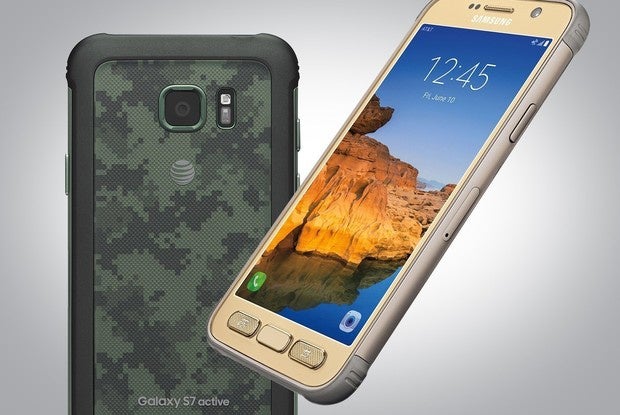 If you're also looking for the best price on a GS7, the regular version is cheaper on AT&T ($694.99) and each of the other three leading U.S. carriers. If you don't want to become an AT&T customers and price is paramount, the GS7 is likely a better fit than its Active brother — though you'll probably spend $50 or so on a case to protect the more affordable and delicate GS7, which shrinks that price gap.
Galaxy S7 Active bang for your buck
What exactly do you get for the extra hundred dollars? To start, a more durable, smash-resistant display and a significantly larger, longer-lasting battery. For some folks, these two things alone are worth the extra money.
Both the GS7 and GS7 Active offer the same level of water resistance. You'll be fine if you get stuck in the rain with either device or drop one in the john — it happens … often. But you probably don't want to bring any GS7 diving in the deep end of your buddy's pool.
The GS7 Active has a stronger display than the regular version. The Active screen's top layer is made of polycarbonate and the bottom layer is Gorilla Glass 4, according to a Samsung spokesperson. That means the Active's display can take some serious abuse without smashing. I threw caution to the wind and tossed my GS7 Active review unit around the CIO.com offices in flamboyant fashion, and it took the beating admirably.
However, while the GS7 Active's screen is more smash-resistant, it's also more likely to scratch easily. For example, when I dragged the tip of a ballpoint pen across the GS7 Active's screen and slowly pressed down, it left a gouge on the screen that isn't going away any time soon. When I did the same thing to my GS7, it didn't leave a mark. The display's protective polycarbonate layer reduces breaks but it also scratches much more easily than the Gorilla Glass of the GS7's display. (I experienced the same scratch issue with Motorola's DROID Turbo 2 and its "ShatterShield" display.)