LG 65UF9500 4K LCD smart TV review: A great TV with a remarkable remote
If LG's "magic" remote doesn't become the new industry standard for TV controllers, there's something seriously wrong with the industry.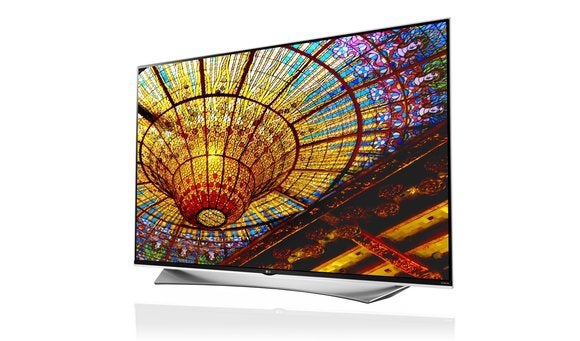 If LG's "magic" remote doesn't become the new industry standard for TV controllers, there's something seriously wrong with the industry. The ability to place the cursor randomly about the screen, as you can with a computer mouse, is a joy after the endless scrolling other TVs force upon you. Can you tell what I liked best about this TV?
Opening a review like that actually does a disservice to LG's 120Hz, 64.5-inch, Ultra HD (3840x2160 pixels) 65UF9500. Sure, the remote is great, but UF9500 also has a great interface and picture; decently saturated color; few if any motion artifacts with high-quality video or signals; and it sounds great. Overall, it was the best TV in the roundup. At $2800—nearly a thousand dollars more than the next priciest, it had better be.
Not that the 65UF9500 was perfect. In particular, the contrast wasn't the best we've seen and there were light shadows in the upper corners and some mild backlight bleed in our screen-uniformity tests. There were also some judder issues during file playback that I'll get into later.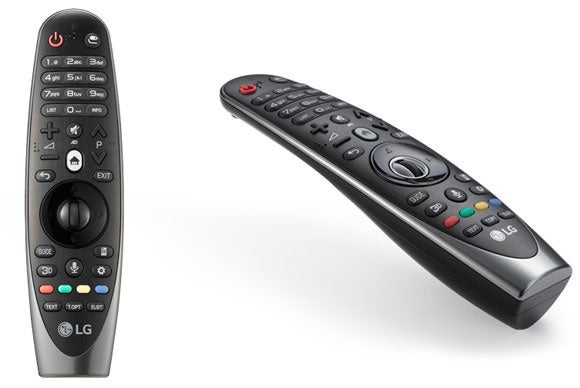 LG's Magic Remote could be the best TV remote ever, thanks in part to LG's WebOS. Credit: LG
Weighing in at 65 pounds and given the dimensions, the LG UF9500 will generally require two normal humans (or a single football lineman) to set up. Apart from its mass, there's nothing particularly difficult about the setup if you can handle a Philips screwdriver.
Video and Sound
All four of the 65UF9500's HDMI ports are HDMI 2.0 and they all support HDCP 2.2, so the UF9500 will be able to display the upcoming copy-protected UHD content. One is also MHL-capable, so you can mirror your tablet or phone's display. Another supports ARC (Audio Return Channel) to pass audio to an HDMI-capable sound systems, such as a soundbar or A/V receiver.
But you won't necessarily need an external audio system—for a thin-profile LCD TV, the UF9500 sounds quite good. There are also several audio modes to suit the occasion or personal tastes. The UF9500 supports a boatload of audio formats, too, including more esoteric types such as OGG, FLAC, and Windows Lossless in addition to the more common MP3, M4A, and WMA. Someone at LG likes music.
Assuming I was viewing OTA (over-the-air) material or content arriving via HDMI, the 65UF9500's picture was every good. Same deal with high-bit-rate 60- and 30fps HEVC and h.264 played back from an attached USB 3.0 drive (the TV also has two USB 2.0 ports).
Something wasn't copacetic, howevere, when transcoding and processing 25fps video. The 65UF9500 actually seemed to make panning jerkier and I noted shimmer in areas of fine detail (shimmer is bad in this case). At the price, it would be nice of the LG compensated for lower-frame-rate video—common in home movies—as well as the Panasonic TC-60CX800U. Here's hoping a firmware update improves it.