LG 65UF9500 4K LCD smart TV review: A great TV with a remarkable remote
If LG's "magic" remote doesn't become the new industry standard for TV controllers, there's something seriously wrong with the industry.
LG markets this TV oddly, mentioning the words "quantum" and "nano" a lot. This TV does not use quantum-dot technology, and I was relieved to learn that. While I was thinking that quantum dots were in play, I was trying to figure out how LG had messed them up. The 65UF9500's color, while not bad for an LED LCD TV, is not in the same league as the models that do use quantum dots, including Samsung's SUHD TVs. Apart from that, there's decent contrast, plenty of usable brightness (more than 400 nits peak), and a generally good picture.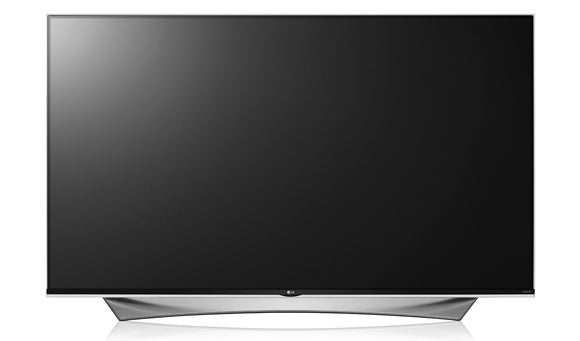 LG's 64.5-inch 65UF9500 smart TV was one of the best in this roundup. Credit: LG
Interface
I've raved about the LG's remote but It would be meaningless if the OS wasn't so easy to navigate. It is, and LG can thank the original WebOS team for that. Yes, this is the same WebOS that HP acquired along with Palm and then didn't know what to do with. There are a good number of apps available for WebOS, certainly more than for the Firefox OS that runs on Panasonic's TVs. That list includes most of the biggies, such as Netflix and YouTube. But the selection is not as broad as you'll get with Sony's Android TV.
Odds and Ends
A confession: 3D makes me nauseous, so if I were to say that the UF9500 made me throw up, that would actually be a compliment. It has 3D capability, but it didn't. The unit also supports HDMI CEC, so you can control your other HDMI-linked (and CEC supporting) equipment. You can even tell the UF9500 where to go via its voice navigation function.
I'll end the way I started: This TV is super easy and fun to use, it delivers a very good picture, its color is nearly on a par with Samsung's SUHD and LG's own OLED TVs, and produces very good sound. Aside from the little 25fps peccadillo, it's a great TV. But then again, so are all the TVs in this price range.