Mario who? Why nobody loves the console mascots anymore
While seeing a demo of Sonic Lost World for Nintendo Wii, Nate Ralph wonders whatever happened to the close connections between mascots like Sonic and Mario and gaming consoles.
Sonic Lost World is shaping up to be a pleasant return to form for the legendary blue hedgehog, re-imagining that quintessential, blisteringly fast Sonic experience. And it's also largely invisible at E3 this week, lost amongst a sea of zombies, military shooters, and whatever's going on with Microsoft's tone-deaf PR.

Sonic Lost World puts some familiar faces in familiar places.
Sonic's not-so-heralded return matches another classic gaming icon mounting a comeback. Like Sonic, Mario is back, in the form of Super Mario 3D World and Mario Kart 8. And like Sonic, few people seem to care.
Back when gamers declared their allegiance by brandishing their Sonic or Mario lunch boxes, game mascots were king. Mario and Sonic's bitter rivalry defined an entire console generation, while would-be upstarts like Sony scrambled to find a rallying figure of their own—see Crash Bandicoot or Spyro the Dragon. A Nintendo console launch without a new Mario adventure is a ludicrous concept. We'd presumably say the same about Sonic, but he's been slumming it on whatever platform will have him since the Sega Dreamcast floundered.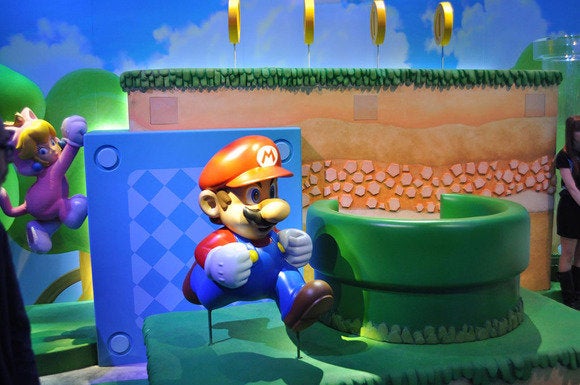 We haven't forgotten about you, Mario, even if makers of some next-generation consoles have.
And yet, over the last few days we saw the launch of an entirely new generation of consoles (in the form of the Xbox One and the PlayStation 4), with no rallying faces—just a slew of (possibly) exclusive new intellectual properties or new ideas and characters to toss at rabid consumers and figure out what sells. While I'm rather smitten with Nintendo's latest efforts with both Super Mario 3D World and Mario Kart 8, I'm as much a fan of doing new things as much as the next avid gamer. But isn't the lack of mascots for the Xbox One and Playstation 4 all just a little bit sad?
True, the Xbox ostensibly has Halo's Master Chief or Gears of Wars' Marcus Fenix. The PlayStation could perhaps turn to LittleBigPlanet's Sackboy or maybe God of War's Kratos. But there are no defining figures anymore, no central pillars that entire corporations would center their marketing and messaging around.
I blame first-person shooters. As consoles became more powerful, the PC's premier mouse and keyboard-driven genre began to plant its roots. The rise of the silent protagonist all but eliminated the need to develop robust personas for the blockbusters of the day. And when the original Xbox and PlayStation 2 hit the scene, the messaging was largely focused on how powerful the hardware was—U R Not RedE and all that jazz—enabling robust new worlds to visit violence upon aliens and the like. (Online multiplayer wasn't quite on the horizon.)