Meet Snickerdoodle, an affordable, powerfully maker-focused Raspberry Pi rival
A field-programmable gate array means Krtkl's Snickerdoodle can tackle complex projects, like robots or drones, unlike the locked-down Raspberry Pi.
As for the hardware itself, here's how both the base configuration and the fully loaded version of the Snickerdoodle stack up against the notable competition. Although it's not mentioned in the krtkl-supplied slide, the Snickerdoodle also comes with an SD card port and USB power, as this full spec sheet shows.
Note that "fully loaded" tidbit: Although the base version of Snickerdoodle will sell for $55 during krtkl's Crowd Supply crowdfunding campaign, you'll also have the option of upgrading the board with enhanced capabilities.
When I asked Cousins if that could cause manufacturing problems, he said Krtkl made sure to source the base and upgrade components from the same supplier—the same CPU manufacturer is supplying both the base and upgrade processors, the same memory maker is supplier both RAM configurations, and so on. So the complexities of adding multiple Snickerdoodle SKUs aren't as complex as they seem, Cousins says.
Krktl also plans to sell add-on baseboards that let you quickly adapt the Snickerdoodle to popular project types. (Opting for the $15 Snickerdoodle configuration that aims the connectors downward makes slotting the device into the baseboard easier, with no cables required.)
There will be an adapter that connects the Arduino Due to the Snickerdoodle and adds Arduino headers and micro-USB; a "Pi Smasher" baseboard that adds HDMI in and out, Gigabit ethernet, USB 2.0, and 68 additional configurable GPIO pins; and a pricey Gryphon Autopilot baseboard that has everything you need to get a DIY drone up and running.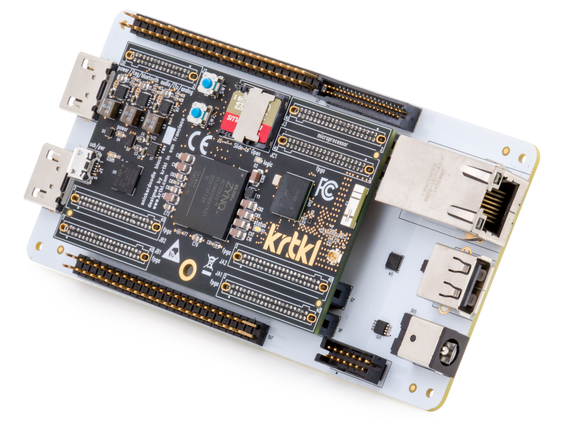 The Snickerdoodle mounted inside the Pi Smasher baseboard accessory.
Intrigued? Krktl's running a $55,000 crowdfunding campaign for the Snickerdoodle on Crowd Supply. Assuming the Snickerdoodle's maker siren song appeals to roughly 1000 backers, the board is slated to start shipping next spring—though Cousins says Krtkl plans to embrace the maker ethos by releasing the Snickerdoodle's board schematics at some point during the campaign.