New Apple TV: Siri and the App Store are the stars of Apple's new set-top box
Apple's set-top box is getting its long-awaited overhaul, with a serious emphasis on gaming.
Apple is re-entering the living room with the 2015 Apple TV, a new set-top box that streams video, plays games, and uses Siri to answer your every entertainment whim.
The last time Apple upgraded its living room hardware was more than two years ago, and even that was a minor refresh of the 2012 Apple TV. The new version is a significant upgrade, packing more powerful hardware and a full-blown app store.
Return of the puck
While the basic shape of the new Apple TV hasn't changed, it is about 10 mm taller than its predecessor, presumably to make room for all the added computing power under the hood. Gone is the crusty old A5 processor, and in its place is a 64-bit A8 chip. Around the back, there's HDMI and Ethernet, but apparently no optical audio output.
Similar look, new apps
At first glance, the new Apple TV sports a similar interface to that of its predecessor. A strip of recommendations sit on top, followed by a list of apps underneath.
The big difference now is that there's an entire App Store, rather than a preset list of Apple-curated selections. Streaming media apps such as Hulu and Netflix will be present, as they were on the old Apple TV, but Apple is also inviting new kinds applications that aren't strictly about entertainment. Gilt, for instance, will let users go clothes shopping on the big screen, while Zillow will launch an app for real estate hunting.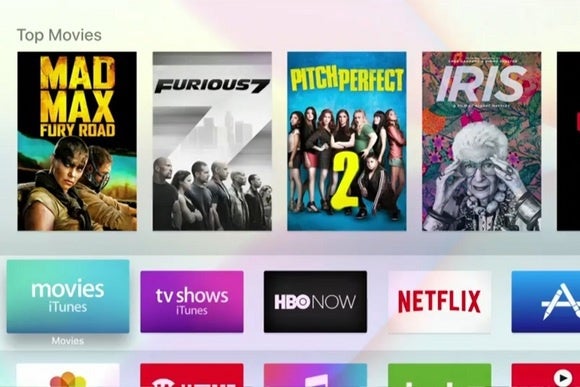 Apple is referring to its television software as "tvOS," and will offer a software development kit for app makers.The interface also has a refreshed the look and feel of the software, ditching the staid black background of the old Apple TV, and using lighter colors and transparency effects.
Siri-powered
Beyond the visual interface of Apple TV lies one that's entirely controlled by Siri, Apple's virtual assistant. You can use Siri to open apps by voice, or ask for specific movies, TV shows, or actors. Drawing on iOS 9's cross-app search features, Siri will be able to dig up content from individual apps such as Netflix, Hulu, HBO Now, and Showtime.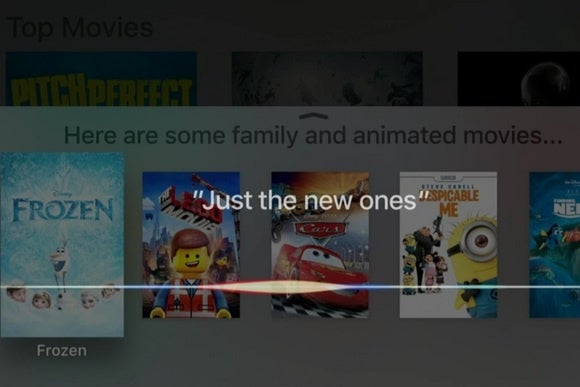 While Apple TV isn't the only media streamer with cross-app search, the secret sauce with Siri is its ability to interpret natural-language requests, even highly specific ones such as "Show that Modern Family episode with Edward Norton." You can also ask for specific genres, and narrow down the search with requests like "just the latest."
A new kind of remote
The new Apple TV remote is a sharp departure from the previous one—and from all other media streamer remotes, for that matter. Instead of directional buttons, Apple's remote uses a touchpad for navigation, letting users swipe to move through menus quickly or scrub through video playback.