Panasonic TC-60CX800U 4K LCD smart TV review: Great features, smooth motion, but not much contrast
There's plenty to like about this TV, but it's not the best model on the market.
Audio codec support is weak, which is another reason you'll want to have outboard audio gear on hand. Where the Samsung and LG play nearly every format out there, the Panasonic is limited to MP3, M4A, and FLAC. It won't even play WMA. This from a TV that supports DLNA streaming and provides a Wi-Fi hotspot for other devices to connect to. Panasonic needs to step up its audio game, which was easily the weakest in the roundup.
Interface and remote
The Firefox OS/Panasonic user interface is a breeze to navigate. Everything is nicely organized and easy to find. My biggest complaint is that the settings menu obscures most of the display. It's harder than it should be to see the effects of your adjustments, which are implemented in real time. Other than that—nice job.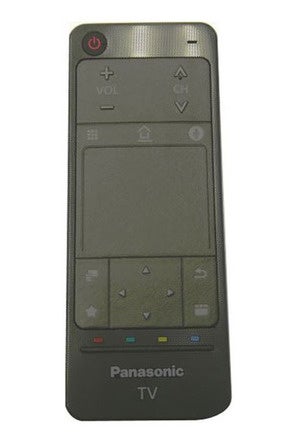 The Panasonic's secondary remote is a minimalist touchpad type. Credit: Panasonic
Panasonic ships the TC-60CX800U with two remotes. Thankfully, one of these is a minimalist touchpad type. You need to use the tons-o'-buttons main remote to pair the touchpad to the TV, but then you can cut it loose—most of the time anyway; I was unable to exit the update page with the touchpad and had to use the conventional one.
In a similar incident, the USB keyboard I attached wouldn't work in the Amazon app or in the settings menu, and the movie file playback kept throwing me out when it encountered a file it didn't like.
If you're looking to go app-crazy in your spare time, this is not be the TV for you. There are no alternative players, such as VLC, for example, to broaden the TC-60CX800U's narrow audio file-type support. Most of the big video-streaming services such as Netflix, Amazon, and YouTube are on hand, but the pickings are slim for music streaming.
Conclusion
The TC-60CX800U has great smart TV features, especially the DLNA serving and Wi-Fi hotspot. I'd like more contrast, but at least one visitor to the lab preferred this TV over the others. Taste is indeed in the eye of the beholder, and many of this unit's peccadilloes will be meaningless to the average user, so take a look.