Razer DeathAdder Chroma review: The most popular gaming mouse gets a bit brighter
The DeathAdder gets new lights and a new sensor for 2015
Light up the night
There's also that fancy "Chroma" tag appended to the name now. That's Razer's RGB-enabled line, in case you're unaware a.k.a. it lights up and looks pretty.
Razer's really gone the minimalist route with the DeathAdder Chroma's lighting, though. Both the Mamba and the Diamondback feature stunning lighting effects, with trails on each side that really make use of the RGB lighting.
The DeathAdder? Uh...the scroll wheel lights up and the logo lights up. Nothing else. No fancy light trails, no crazy rainbow strobe. If you set your new RGB mouse to green it would look pretty much identical to the previous DeathAdder model.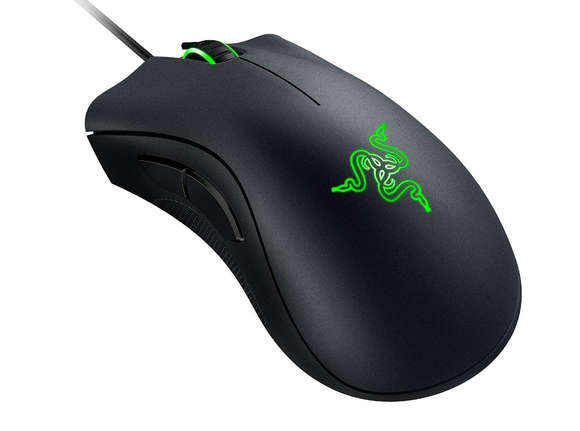 On the one hand, who cares? It's a mouse, and mouse lighting is purely decorative. But on the other hand, mouse lighting is purely decorative. I feel like if you're going to release an entirely new version of a long-standing product and market it on new lighting, that lighting better be damned spectacular. The DeathAdder is boring in comparison to Razer's other Chroma products.
But maybe that was to keep the price down. At $70, the DeathAdder is the cheapest mouse in the Chroma line, and one of the cheapest in Razer's lineup period. Or maybe it's just an "If it ain't broke, don't fix it" mentality. After all, why tamper with a design if it's a proven seller?
Bottom line
Anyway, it's the DeathAdder. It's pretty much the same as the previous version, except now the lights can change color and it has a 10,000 DPI sensor instead of the previous 6,400. It's still just as comfortable as ever, and as bare-bones as ever.
One final note: The Chroma version is only right-handed, at the moment. Razer still sells a separate left-handed DeathAdder, but it's on par with the previous iteration. No fancy lighting for the left-handers yet.