Razer Diamondback review: A classic returns to life with a hefty price tag
A little piece of gaming mouse history
The side buttons are also much smaller than you'll find on any other Razer mouse—both horizontally and vertically. They're easy to find though, whether predominantly a palm- or claw-gripper, and extremely easy to press.
2) The scroll wheel is loud. Scrolling forward, it's particularly susceptible to "quacking," and it can be distracting if you're making quick back-and-forth motions (e.g. to swap through weapons). It's also stepped very aggressively, with higher-than-average friction and up-front resistance.
3) The lighting. Oh wow, the lighting. Sure, 16.8 million color RGB lighting on a mouse is decorative more than functional. We all know that.
The Diamondback is one beautiful piece of hardware though—probably the best RGB-enabled mouse I've seen. Apart from the standard scroll wheel and logo lighting, Razer's built a channel that stretches from the front-left back around the rear and up to the front-right of the mouse. It's very similar to the Roccat Kone XTD, but a bit cleaner in my opinion. You can set up custom lighting in Razer's Synapse software, of course, but even the default rainbow cycle is stunning.
The price
I have one enormous issue with the Diamondback: The price. Everything else—the look, the feel—that's all a matter of taste, and all I can do is offer suggestions and try to make my own preferences clear.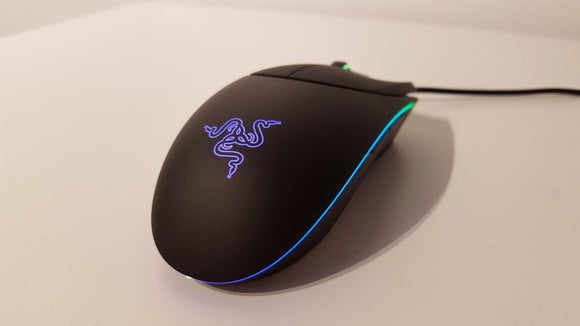 But the price. Razer is selling the Diamondback for $90. Yes, ninety dollars. That's an amount I'd be hesitant to pay for any mouse, even if it were decked out with all sorts of fancy features. The Diamondback isn't even that fancy—it's just your standard ambidextrous mouse with some cool lighting.
I'm sure it's that latter bit—and the Diamondback's reputation—that makes Razer think it can command such a premium price, but I'm not sure it earns it. It's certainly not a better mouse than Logitech's G502 Proteus Core, which is my absolute favorite and runs for "only" $80 normally.
Bottom line
I don't know why the Diamondback went away, and I don't really know why it returned. But it's back, and in a world full of "me too" gaming peripherals the Diamondback's unique shape still stands out. It's probably the most wholly unique mouse in this round-up, and that deserves its own special recognition.
Just be wary of that $90 sticker price. You could get a whole lot of mouse for a whole lot less money, so you'd better have your heart set on the Diamondback before shelling out.