Razer Mamba review: Wired, wireless, or somewhere in between
The high cost of luxury.
The point is: Both feel fine, and it's not nearly as noticeable a change as, for instance, adding weights or adjusting the height of the palm rest.
Finally, the wireless. Here's where I really find fault with the Mamba.
I typically don't use wireless peripherals, in large part because I want everything I own to just work, all the time. The Mamba, although pretty damn good as far as wireless devices go, still had a few moments during testing where it lost tracking and needed to re-pair. And the Mamba's internal battery, though excessively heavy, lasts a scant 20 hours even by Razer's (under perfect conditions) reckoning. That's...not great. Sooner or later you're liable to run out of power at an inconvenient time.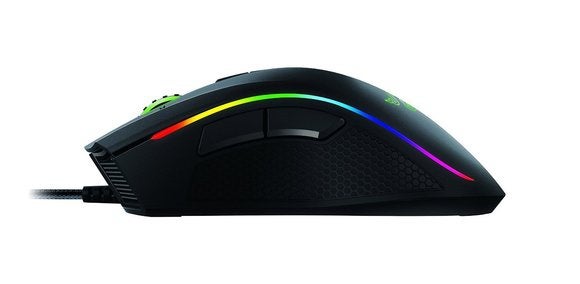 You can, if that happens, connect the Mamba directly to your computer with a MicroUSB cable—but at that point why not spend half as much and get the always-wired Mamba Tournament Edition?
The Mamba Tournament Edition
Which brings us to the Mamba's less-expensive sibling. The Mamba Tournament Edition is the same exact mouse—same 16,000 DPI sensor, same lighting effects, same 1 millisecond polling rate—except it's always wired. Oh, and it's missing the feels-sort-of-gimmicky "adjustable click force technology."
And it costs $90 instead of $150.
I also like the weight of the Tournament Edition more. Since it's a wired mouse there's no bulky battery weighing the Mamba TE down—and it makes a huge difference. I actually prefer a heavy mouse, with my love for Logitech's G502 as testament. But the G502 is well-balanced, where the wireless Mamba is back-heavy.
Bottom line
I can't imagine why you'd buy the regular Mamba instead of the Tournament Edition, unless you're dead set on going wireless. Razer's made a beautiful mouse, but $90 is already pushing what I'd pay. $150 is too rich for me, even if the Mamba and its charging stand are two of the prettiest devices I've ever had on my desk.
The Tournament Edition has 90 percent of the functionality without necessitating you mortgage your home or put your mouse on a charger every night. That gives it the edge, in my book.