Roccat Tyon review: Winner of "Most Buttons, 2015 Edition"
It even has a button that makes all the other buttons act like new buttons
But due to the button's placement, it's pretty much impossible to hold it down and use the other two thumb buttons at the same time. Plus, notice I said it's located on the thumb rest? Roccat put the modifier button right where you'd typically lay your thumb, which led to a few inadvertent clicks on my part.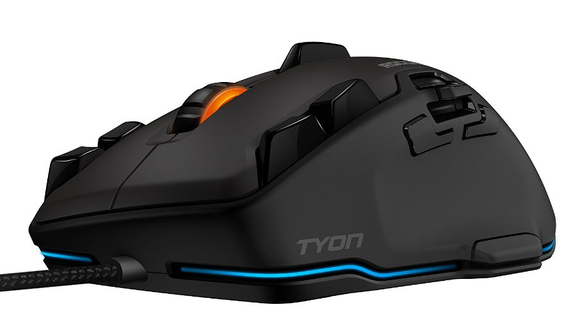 I also wish the top (digital) paddle and scroll wheel were simply combined into a tilt wheel. The tilt wheel is one of my favorite (rare) mouse features, and even made its way to Razer's 2014 Naga. The Tyon has all the components of a tilt wheel...split into two pieces. It seems unnecessary, and the placement of the paddle is awkward as hell at the moment.
I like the Tyon better overall than the Naga, though. I've always had trouble telling the difference between the Naga's twelve numpad-style thumb buttons. The Tyon gives you similar functionality but with more unique button positions.
And really your appreciation for the Tyon will come down to how much time you're willing to put into fiddling. This isn't a plug-and-play sort of mouse. Or, at least, not if you want to tap into its full potential. You're going to need to spend some time deciding how to map each button twice-over.
Do so, and some ingenious control schemes open up though. Change weapons by flicking the analog paddle back and forth. Melee by hitting Left Mouse while the modifier key is held down. The Tyon has a ton of functionality, if you've got the patience and the creativity.
Bottom line
I'm personally pretty happy with a more stripped-down mouse. I don't play many games that would take advantage of the Tyon's suite of buttons, and even when I do I'm typically prone to forgetting what mouse shortcuts I've set up.
If you are in the market for a button-heavy mouse, the Tyon is probably my favorite though. It's much more intuitive to me than the Naga-style numpad design, and I actually found myself missing Easy-Shift once I went back to a different mouse.
The only real issue is the price. $100 is steep, for any mouse—even if you do the math and realize the Tyon's cost breaks down to $7 per button.