Scosche MagicMount PowerBank review: Magnetically attached Lightning connector
An excellent, well-designed middle ground between an external USB battery pack and an iPhone battery case.
The Scosche MagicMount PowerBank ($60 MSRP; $50 on Amazon) is a nifty Lightning connector battery pack that recharges an iPhone 6s or SE more than once through an attractive, damage-resistent case that connects firmly via a strong magnet. The MagicMount requires adhering a magnetic plate to the back of your phone or phone case and it's not cheap. But given its utility and inclusion of a Lightning connector, it compares favorably to other alternatives.
The PowerBank has a 4,000 mAh internal battery, which, factoring in overhead and conversion loss, should be able to take the 1,715 mAh battery of an iPhone 6s or the 1,624 mAh battery of an iPhone SE from "dead" to full about twice. In testing, I found this closer to 1.25 times, however. (The iPhone 6s Plus has a 2,750 mAh battery, but the MagicMount doesn't seem like as great a match in terms of physical dimensions or capacity.)
Powerful magnets
This battery pack isn't an iPhone case with a battery built in, but it tries to bridge the best of both worlds. The battery's magnet is covered with a rubbery substance, and there are two plastic pads above and below it to prevent scratching an iPhone. The battery can be used with a magnetic pad placed either directly on the back of an iPhone, or with an iPhone case, where the pad is attached inside or outside the case.
The battery comes with both a large and small plate as well as a thin adhesive plastic sheet you can insert between the phone and the plate to make it easier to remove later.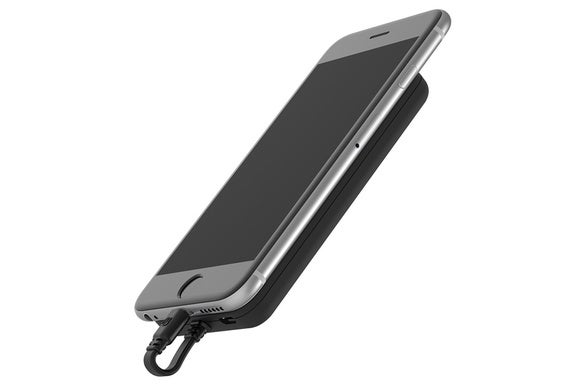 The neodymium magnetic connection is very strong—make sure and keep the battery pack away from any hard-disk drive! I've switched over almost entirely to solid-state drives (SSDs), but nearly put the battery pack down right next to a backup drive I'd forgotten was an HDD. I wouldn't put this battery pack in a messenger bag next to a laptop with an HDD.
With direct battery pack to magnetic plate contact, using the small plate, I found it nearly impossible to move the PowerBank at all even with worryingly vigorous shaking. I couldn't dislodge it a bit in any direction except with a strong whack of the heel of my palm perpendicular to the plane where the magnetic and plate attach. Even then, it moved only millimeters. If your iPhone experienced that kind of severe, repeated shock, the battery coming off would likely be the least of your worries.
I also tried it out with my current setup, which has the plate on the phone inside Apple's leather case, and it worked fine, but it wasn't nearly as secure. (I also use a a magnetic car mount from Mountek that attaches via an unused CD slot.)