Sony 55X850C 4K LCD smart TV review: Great picture, good sound, but some minor bugs
Android TV support lends this TV lots of flexibility.
Note: After I put this article to bed, Sony issued a firmware upgrade. It helped with the motion compensation, but also caused the player to crash and and lock up the TV.
All four of the 55X850C's HDMI 2.0 inputs support HDCP 2.2. You can use MHL to stream audio from mobile devices, and there's ARC (audio return channel) support, too.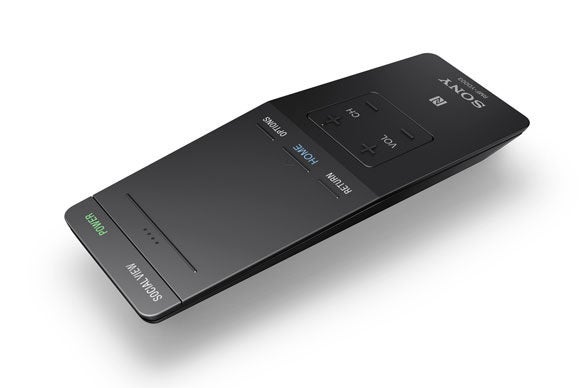 Sony's touchpad remote control is a natural companion for its Android OS. Credit: Sony
Interface and OS
The 55X850C's Android OS is easy to use, and easy to navigate, though placing everything, including the settings, on one screen along with the apps results in a lot of scrolling. That's an exceedingly minor complaint, mind you. Overall, it's a facile experience.
The 55X850C augments its old-school, too-many-buttons remote with a simpler touchpad-style alternative. You must use the former to link the latter to the TV; but from then on, you can use whichever you prefer. I used the touchpad because I like simple, even if it does require more scrolling. I also found the 55X850C's voice navigation extremely useful. It made finding apps in the catalog, as well as everything else, quite easy. In total, interacting with the Sony isn't quite as fun as LG's magic remote/WebOS combo, but it's pretty darn easy.
Where Android OS really shines is in the breadth of apps available. Notice I mentioned four media players in the testing section: Just about anything you can find in the Google Play Store you'll find on the Sony; but as with said players, some may not work as well on the 55X850C as they do on other devices.
One other neat feature of the Sony is an integrated channel guide. While this may be available via apps on other TVs, it's nice to have it integrated as Sony does. This feature will be particularly attractive to cord cutters, since this feature is part and parcel of the set-top boxes that cable and satellite TV service providers lease to their customers.
Conclusion
The issues with USB playback probably won't affect the majority of users, and this is otherwise an excellent all-around TV, especially for the price. And, as the firmware is upgradeable, the 55X850C's OS and app limitations and bugs will likely disappear in the future. Did I mention it does 3D? Will you care? Probably not.