T-Mobile offers free Pokémon Go data for a year, but not everyone is happy about it
T-Mobile keeps on giving the people what they want.
Earlier this week we reported that Pokémon Go was eating the world, and in the last few days the augmented reality game has taken another big bite. The craze has hit such heights that you can now filter locations on Yelp based on whether or not a Pokéstop is nearby. Seriously.
Not wanting a good fad to go to waste, T-Mobile's getting in on the action with an offer that should bring a smile to every trainer's face. Late Thursday, the company announced it would offer free data for a year for all customers' Pokémon Go sessions. The offer only applies to data consumption from using the Pokémon Go app.
The catch
T-Mobile isn't just giving away the free data automatically, however. Any T-Mobile customer that wants to go around town Pokémongering for free first needs to download the T-Mobile Tuesdays app. Then, on Tuesday, July 19, you can claim the gift of free PokéData. If you miss out on the free data deal this Tuesday, it will be available in the app every Tuesday until August 9, 2016.
The upcoming T-Mo Tuesday includes a bunch of other Pokémon-themed deals. Pokémaniacs can get a free Lyft ride (up to $15) in order to get to a new PokéStop or Gym, because why get sore legs from walking when you can ride around in style?
There's also the usual Wendy's Frosty for free, but this time it's to "fuel up your hunting trip." T-Mobile is also offering 50 percent off select mobile accessories, including portable power packs and chargers. Even if you don't play Pokémon Go getting a half-price charger is a great deal—especially if you have one of the more power-hungry Android phones out there.
Finally, T-Mobile is offering a bunch of giveaways, including 250 prizes of $100 in PokéCoins, and five Pokémon Go hunting trips to anywhere in the U.S.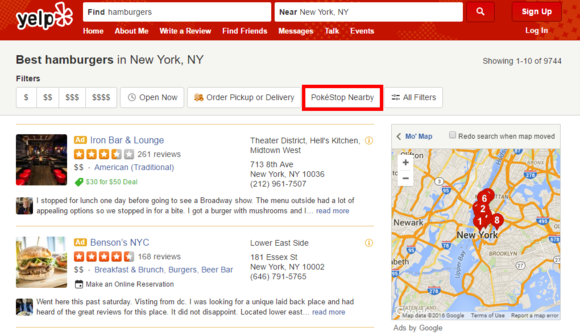 Yelp can filter business locations by proximity to PokéStops.
Not a big deal
The free data's a crowd-pleasing deal, and it probably won't take much out of T-Mobile's pocket. It appears the game isn't eating up that much bandwidth to begin with, as reported earlier by The Wall Street Journal. Pokémon Go usage is somewhere in the region of 5 to 10 megabytes per hour. If you have a 2GB data cap you'd have to play around 200 hours every month (around 7 hours per day) to hit it.
Problem for net neutrality?
The bigger issue around the new deal isn't how much data you can save, but whether T-Mobile's offer violates net neutrality.