The beginner's guide to Pokémon Go: A FAQ on how to catch 'em all
Not sure which team to join? Don't know the difference between a regular Poké Ball and a Great Ball? And where do these Pokémon hang out? This guide is here to help.
By now, you must be familiar with Pokémon Go, the latest Pokémon game for iOS and Android that uses VR and real-world locations to send players on an IRL quest to catch Pokémon. But considering it's a global phenomenon, Pokémon Go is surprisingly lacking in beginner instruction. This may be on purpose—Pokémon Go has a huge social element, and fewer instructions means more people turning to each other for help.
But if you'd rather not ask your 10-year-old neighbor for the basics, we've put together a beginner's guide that will answer all your questions about hunting down Pokémon, nabbing items, and sating your desire for world domination by controlling all of your neighborhood gyms.
Pokémon, Pokémon, and more Pokémon
How do I find Pokémon?
When you first start the game, you will see three starter Pokémon spawn/appear in your area: Bulbasaur, Charmander, and Squirtle. You can pick one of these Pokémon to catch, and once you catch it, the other two Pokémon will disappear. But finding your next Pokémon isn't quite so easy—you'll need to venture outside to find more Pokémon. Pokémon tend to spawn in areas that are well-populated, like parks, tourist attractions, and shopping centers. You'll also find different Pokémon in different areas—water-type Pokémon will only show up near bodies of water, for example, while grass-type Pokémon can be found in parks.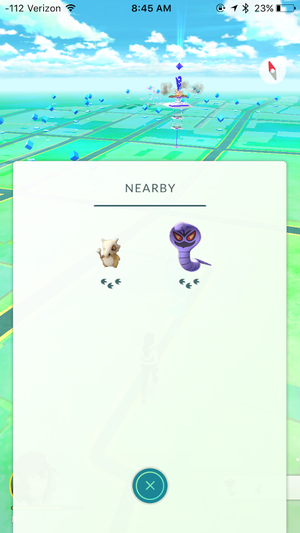 In the lower-right corner of your screen, you will see a small white bar with silhouettes of Pokémon that are close to your current location. Tap this bar to see all nearby Pokémon; tap a single Pokémon to track it. These Pokémon will have paw prints underneath them denoting how close (or far) they are from you: One paw print means close, while three paw prints mean further away. These paw prints will decrease/increase as you get closer/further from the Pokémon.
How do I catch Pokémon?
To catch a Pokémon, you'll need to hit it with Poké Balls. This is fairly easy—just tap the Poké Ball and flick it toward the Pokémon. Each Pokémon will have a circle that is green, yellow, or red: Green means the Pokémon is easier to catch, while red means it's difficult. As soon as you put your finger on the Poké Ball, the circle will start shrinking; if you hit the Pokémon while the circle is larger, it will be easier to catch (and less likely to break free).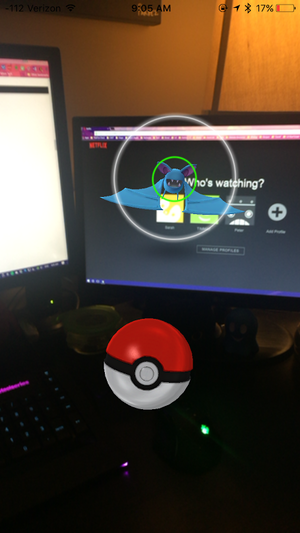 You can increase your chances of catching Pokémon with higher level Poké Balls (you'll get access to Great Balls at level 12) and by using Razz Berries, a treat that entices a Pokémon to stay. You can also get a 100-point Experience Point (XP) bonus by spinning the Poké Ball when you toss it.