The beginner's guide to Pokémon Go: A FAQ on how to catch 'em all
Not sure which team to join? Don't know the difference between a regular Poké Ball and a Great Ball? And where do these Pokémon hang out? This guide is here to help.
How do I get eggs? How do I hatch an egg? Why can't I hatch an egg while driving?
You can get eggs from PokéStops, which are real-world locations that let players grab items. Eggs come in three varieties: 2km, 5km, and 10km. To find your eggs, open the Pokémon screen and tap the Eggs tab at the top of the screen. To hatch an egg, you will need to put it in an incubator (do this by tapping the egg you want to incubate and tapping Start Incubation) and then walk 2 kilometers, 5 kilometers, or 10 kilometers.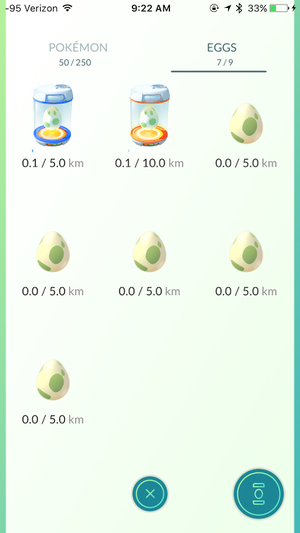 In order for your steps to count, you must have the app open while you are walking. Step-counting stops working over certain speeds, so traveling in a car will not count toward your egg-hatching.
Can I catch Pokémon in a car?
Yes. But you should not play Pokémon Go while driving.
If you're in a moving vehicle and you spot a Pokémon on your map and you tap it, the Pokémon will remain in your view long enough for you to catch it (even if you're traveling at freeway speeds). You can also grab items from PokéStops in a car, if you tap them and start spinning them before you reach them (you'll have to be quick). You can't battle a gym while moving, though.
PokéStops, items, and lures
Where can I get different items?
You can get Poké Balls, eggs, potions, super potions, revives, Razz Berries, Great Balls, Ultra Balls, and Master Balls (powerful types of Poké Balls) from PokéStops. You will get some incense, lucky eggs, lure modules, and egg incubators as you level up, but these "premium" items can also be purchased in the shop. Here's a quick rundown of what these items do:
Poké Ball: Used for catching Pokémon. Just toss these at Pokémon you meet in the wild.
Egg: These contain Pokémon. You will need to put an egg in an incubator and walk a certain distance (each egg will tell you how long you'll need to walk) for it to hatch. You will also receive Stardust and Candies upon hatching.
Potion: Restore 20 Hit Points (HP) to Pokémon injured in gym battles. Will only work if Pokémon have not fainted.
Super Potion: Restore 50HP to Pokémon injured in gym battles. Will only work if Pokémon have not fainted.
Revive: Revives a fainted Pokémon and restores half of its HP.
Great Ball: Unlocks at level 12. Used for catching Pokémon. These special balls have a higher rate of capture, so you should use them on hard-to-get Pokémon.
Ultra Ball: Unlocks at level 20. Used for catching Pokémon. Has a higher rate of capture than a Great Ball.
Master Ball: Unlocks at a higher (currently unknown) level. Captures Pokémon every time.
Incense: Attracts Pokémon to your location for 30 minutes. Works best if you are moving.
Lucky Egg: Doubles your XP for 30 minutes. To rack up XP quickly, use a Lucky Egg in an area where you are likely to meet a lot of Pokémon (near a lure module or while using incense), or right before you are about to evolve several Pokémon (evolving nets you 500XP).
Lure Module: Can be pinned to a PokéStop to attract Pokémon to that location for 30 minutes. Works for everyone near the PokéStop.
Incubators: Can be used to incubate and hatch eggs. You can use multiple incubators at once to incubate and hatch multiple eggs.
Previous Page 1 2 3 4 5 6 Next Page