The beginner's guide to Pokémon Go: A FAQ on how to catch 'em all
Not sure which team to join? Don't know the difference between a regular Poké Ball and a Great Ball? And where do these Pokémon hang out? This guide is here to help.
Why is this enemy Pokémon impossible to beat?
You may encounter a known bug where an enemy Pokémon has 1HP but refuses to die. If you encounter this bug, shut down the app and reopen it. You will have to restart the fight, but all of your Pokémon will be restored to full health.
What happens when my Pokémon get injured or faint?
If your Pokémon get injured, you can restore their HP with Potions and Super Potions, which you can pick up from PokéStops. If your Pokémon faints, you will need to revive them with a Revive, which can also be found at PokéStops. You cannot use items during a battle.
How can I train my Pokémon at a friendly gym?
You can "train" your Pokémon at a friendly gym (a gym owned by your team) by fighting against the Pokémon defending it. To do this, walk up to the gym, tap it, and tap the train icon in the lower right corner. You can only take one Pokémon into battle when you train.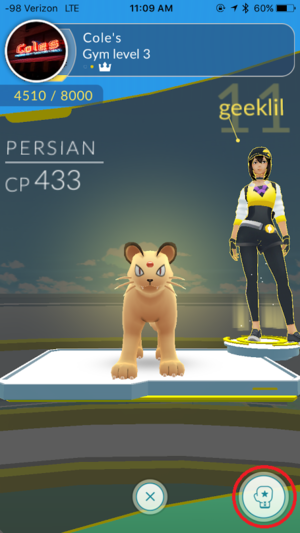 Every time you win a battle against a friendly gym, that gym's prestige raises. If you lose a battle at a friendly gym, its prestige is not affected.
How can I drop my Pokémon at a friendly gym?
If you encounter a friendly gym with an empty slot, you can drop one of your Pokémon there to help defend it. To do this, walk up to the gym, tap it, and tap the assign button in the lower left corner. When you drop a Pokémon at a defending gym, you will lose the ability to level it up or evolve it until it's defeated and comes back to you. You will not get a notification if your Pokémon faints or is injured in battle and the gym is taken over by another team, but it will show up in your roster to be healed.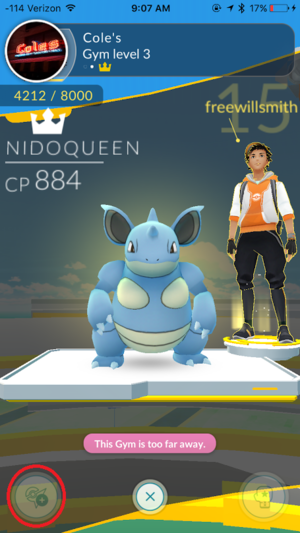 If the friendly gym does not have an empty slot, you will need to train (win against the gym) until its level raises and a slot opens up.
What do I get for being a gym leader?
Gym leaders and gym defenders get Stardust and PokeCoins every 21 hours. If you are controlling or helping to defend a gym at the 21st hour, you will get these benefits by going to the Shop and tapping the shield icon in the upper right corner. The highest CP Pokémon defending a gym determines the gym leader.