The five key moments in Apple's Q2 2016 earnings call
Not only did the company set records for revenue, profit and iPhone sales - its US$18.4 billion profit is one of the most profitable quarters for any company ever.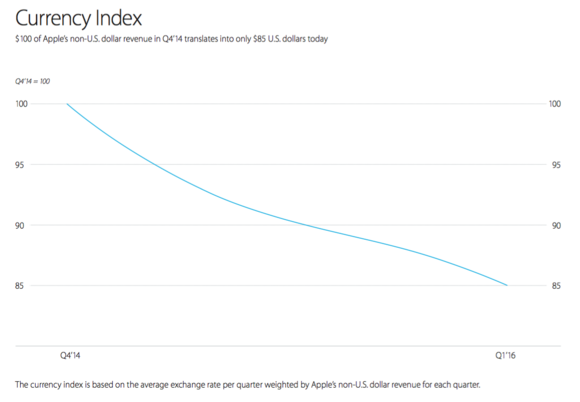 "We're in an environment now that is dramatically different from a macroeconomic point of view," Cook said. "From a currency point of view, from the level at which we've had to adjust pricing in several of these markets, and sort of the overall malaise in virtually every country in the world."
The difficulty of the world economy and of playing in many different international markets is definitely a big story when it comes to understanding Apple's business, and it's becoming a major theme when the company discusses some of its biggest challenges. Or as BuzzFeed's Tom Gara wrote on Twitter, "Apple lost more revenue to foreign exchange fluctuations in last quarter than all of Facebook's quarterly revenue."
Still bullish on China
Difficulties in the Chinese economy haven't soured Cook and Apple on China, however. "We remain very bullish on China, and don't subscribe to the doom and gloom kind of predictions," Cook said on Tuesday. Apple revenue grew 14 percent year-over-year in China, to an all-time record US$18.4 billion. Mac sales were up 27 percent year-over-year in mainland China.
And then there's the continued potential of the iPhone in China. "Almost half of the iPhones that we sold in China last quarter were to people who were buying their first iPhone," Cook said, adding that he expects a huge wave of future buyers who will upgrade their existing 3G smartphones to ones that connect to faster LTE networks.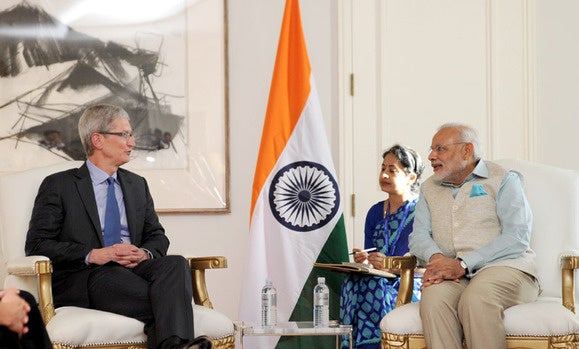 Apple is also interested in India, despite not doing nearly as well there as in China, and the country got a lot of talk from Cook on Tuesday. "India is also incredibly exciting," Cook said. "It's the third largest smartphone market in the world behind China and the US. The population of India is incredibly young, the median age there is 27.... And so I see the demographics there also being incredibly great for a consumer brand, and for people that really want the best products. And as you know, we've been putting increasingly more energy in India. India revenue for us in Q1 was up 38 percent. We also had currency issues in India, as everybody else did. Constant currency growth was 48 percent, and so it's a very rapidly expanding country and I think the government there is very interested in economic reforms and so forth that I think all speak to a really good business environment for the future."
Given Apple's small presence in India and low penetration of LTE networks in that country, Cook thinks there are "a tremendous number of people" there (and elsewhere in the world) that will give Apple opportunities to keep growing the iPhone user base.