The King's Quest reboot embraces everything that made old-school adventure games so wonderful
Scripted zaniness galore. An unreliable narrator. King's Quest looks to be shaping up into something special.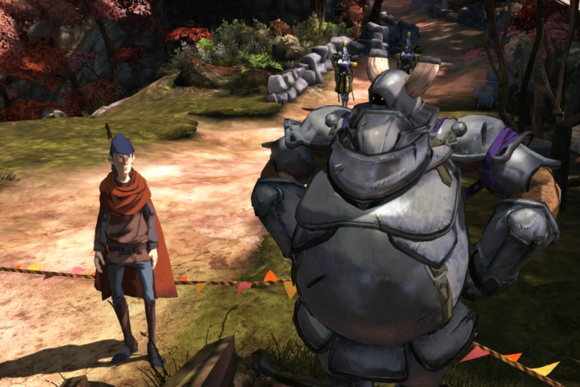 As I was sitting in a dark little cubicle during E3 last week watching a presentation for King's Quest, I started to wonder how much it cost to make. This was no idle speculation--no meaningless mind-wandering. Quite the opposite. I was trying to figure out whether we could officially say the adventure game, that much-maligned genre, was a "Big Deal" again.
After all, here I was watching a demo that featured extensive voice acting from Christopher Lloyd and Wallace Shawn, among others. It's a game where I was expressly told all the artwork is literally hand-painted--the art team prints out flattened meshes of the 3D models and fills them in with watercolors. It's a game where some interactions have upwards of twenty unique pieces of dialogue--go on, keep telling King Graham to hit the knight with his hatchet. Believe me, he's got plenty of excuses why he shouldn't.
It was fascinating, like suddenly I'd slipped into a parallel universe where the '90s never ended and shooters never became the dominant genre and everyone just decided to keep on making adventure games the right way. And this from Activision, the publisher who also brings you your yearly dose of shooter excess, Call of Duty.
Always the hero
Which is not to say we've had bad adventure games recently. Quite the opposite, in fact. Both Nordic and Daedalic have been cranking out fantastic titles over the past few years, from Book of Unwritten Tales to Memoria.
But there's nothing quite on the scale of King's Quest. It's seemingly small stuff, like the amount of dialogue. One of the most common signs of quality in the adventure genre, going as far back as text adventures, is whether you get unique responses for item combinations, i.e. "The cat's allergic to marmalade" instead of a generic "That won't work." It's a sign that a) The developer already thought of the stupid thing you wanted to do and b) The developer had enough time to think of and program in a dedicated reaction.
Modern adventure games often get away with a scarcity of language, though. We have a lot of generic "That won't work" responses and very few unique interactions. Part of what fascinates me with King's Quest is it's seemingly full of hidden silliness.
To demonstrate this, the developers showed us what happens if you--for example--lead King Graham in the "wrong direction." Or, in other words, adventure.
First, some important set-up: King's Quest is a frame narrative, a la Princess Bride or Big Fish or (in games) Call of Juarez: Gunslinger. In other words, someone is telling someone a story, and thus there's an unreliable narrator at play.