Vimtag P1 Smart Cloud IP Camera review: a simple security solution for the home
This camera's ease-of-use makes it ideal for first-time security camera users.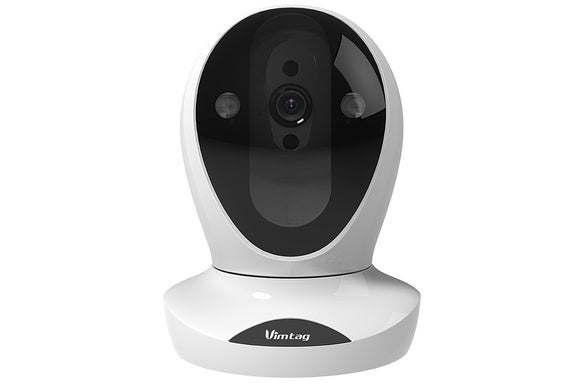 Vimtag isn't a household name, but the 17-year-old company's security cameras and accessories have amassed some pretty stellar reviews on Amazon.com. After putting the its P1 Smart Cloud IP Camera through it's paces, it's easy to see why. While it doesn't sport a particularly arresting design or boast bleeding-edge features like facial recognition, it easily stands with our favorite security cameras thanks to some solid technology and and an excellent user experience.
What you get
The Vimtag P1 follows what are now well-established design cues for DIY security cameras: an inoffensive pod-like body in a white finish that can be placed on any tabletop surface. While it can be inconspicuously nestled within a bookshelf or between knick-knacks in an entertainment center, it comes with a couple of screws should you want to, say, mount it upside down on your ceiling.
The P1 has pan-and-tilt functionality—350 degrees horizontally and 90 degrees up and down—that you control from the Vimtag mobile or browser app. This allows you to adjust the camera's position on the fly or even remotely follow a moving object as you monitor your feed. The 70-degree viewing angle is on the narrower side, but it's still plenty for monitoring a small living room or business reception area. Image Resolution is up to 720p, and night vision is supplied by two 940nm infrared lamps for a viewing distance of about 26 feet.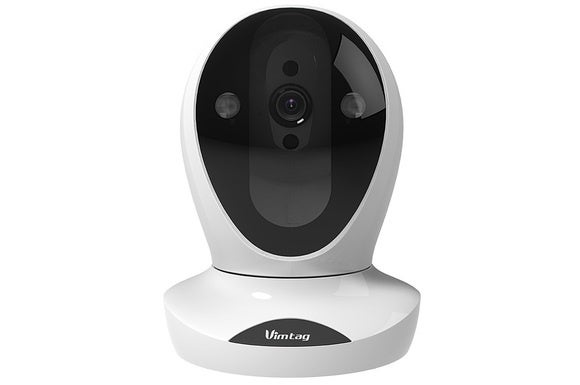 The Vimtag P1 Smart Cloud IP Camera features motion detection, pan-and-tilt functionality, and two-way audio.
Unlike most IP security cameras, Vimtag's P1 doesn't come with a cloud subscription offer. Instead, your video recordings are stored locally on a microSD card (not included). The P1 supports up to 64GB of storage this way, and that's probably plenty if you're recording only motion-detected events when you're out of the house. If you require 24/7 recording because you own a business or take extended vacations away from home, you'll need more. For that, Vimtag offers the $150 S1 Cloud Box, a 1TB internet-connected hard drive that can handle up to four camera feeds simultaneously.
Setup and usage
You can connect the P1 to your network via either Wi-Fi or your hardwired LAN; however, the camera doesn't have a built-in ethernet port. Instead, it comes with a curious adapter that includes both an ethernet jack and a power port. If you are connecting wirelessly, you can just plug the power cord directly into the base of the unit—no adapter necessary.
As I used the second method, I added the camera using the Vimtag Android app, which required me to create a login, then scan a couple of QR codes—one on on the P1 and one within the app. I was up and running in minutes.