Vimtag P1 Smart Cloud IP Camera review: a simple security solution for the home
This camera's ease-of-use makes it ideal for first-time security camera users.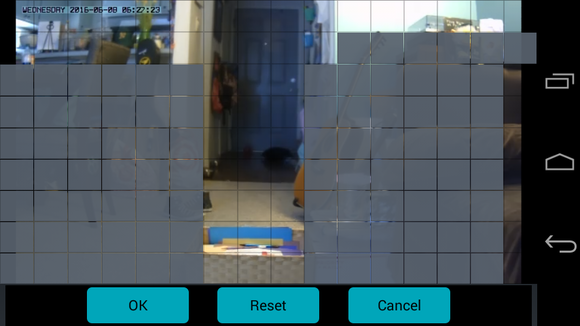 Vimtag
The Vimtag mobile app allows you to mask parts of the image to define motion detection areas.
If you need the camera to keep an eye on a bigger space, you'll get ample use out of the P1's pan-and-tilt feature. You operate it by swiping a finger across or vertically on your device's screen in the direction you want the camera to move. After a moment's delay, each swipe moves the camera incrementally through its respective range.
Overall, the camera works remarkably well. The only hiccups I encountered were when using the web app. Sometimes I'd get a live feed when I logged in; other times, I get a black screen—and that was testing it on multiple browsers. Hit-and-miss functionality isn't something you want to deal with when the security of your home or business is at stake, so stick with the mobile app until the web version's kinks are worked out.
Bottom Line
In short, I really liked this camera. There was no particular stand-out feature, just a smooth, intuitive experience all the way around. Its ease of use makes it a great choice for first-time IP camera buyers or anyone else who wants a hassle-free security solution. The S1 Cloud Box is a nice option if you need 24/7 recording of a business location or other property, but for simple home monitoring the P1 and a $20 microSD card are all you really need.
Previous Page 1 2 3