Witcher 3: Wild Hunt hands-on: Four hours with the most anticipated RPG of the year
Killed a gryphon. Killed some bandits. Killed a few dozen goblins. Kept the hype for The Witcher 3: Wild Hunt alive.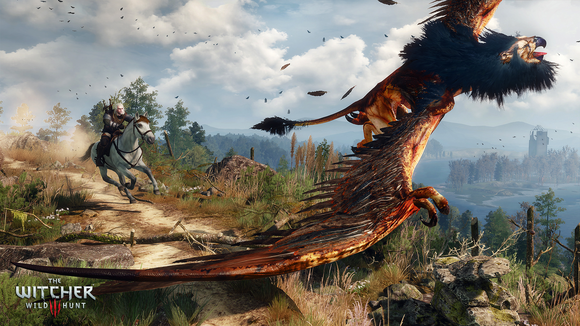 It finally happened. After two years of hands-off demos, multiple delays, and et cetera, I finally got my grunny hands on The Witcher 3 --not just for a piddling few minutes or a tightly controlled demo, but for four hours. CD Projekt basically sat me down at a computer, booted the game, and said "Go."
And I went. I finished off the tutorial, completed a half dozen side quests, and got through the story basically to the end of what I'll call "Chapter One." In other words, right when things started to get interesting? That's when I ran out of time.
Here's what I noticed, nevertheless.
On tutorials
I love The Witcher 2: Assassin of Kings. I loathe The Witcher 2's non-Enhanced Edition opening.
If you haven't played it: You get off a ship as Geralt (the titular witcher of The Witcher, a.k.a. a professional monster hunter). Geralt finds some wounded knight-guy sitting on the road. You find him some herbs. You heal him. You proceed up the road to an arena. You fight a bunch of enemies using The Witcher 2's bafflingly sticky and overcomplicated combat system. You eventually die. The game says "You are terrible. You should play the game on Easy." You decline, and continue to play the game on normal. You enter a city. There are a billion things to do. You don't know what to do or what's important. You turn off the game.
That's literally how I started The Witcher 2. The "find this guy some herbs" thing sucked. The lack of context sucked. The arena sucked. The city sucked at conveying what was important. Basically, everything sucked until about four or five hours in, when you finally got your bearings.
The Witcher 3 fixes all my problems. The tutorial takes place in Kaer Morhen, the stronghold of the witchers. Veterans of the series will recognize Vesemir and other characters, while for newcomers there's a healthy dose of context given through various conversations.
And it all flows very nicely into the game itself, which plops you into the town of White Orchard to look for an old companion. White Orchard is basically a smaller subset of The Witcher 3's larger open world, so think of it like the entire game in microcosm--do some side quests, explore a bit, and then when you're ready you can move on.
Vesimere also sticks around, which helps because Geralt has someone to talk to a.k.a. someone who he can have conversations with that give some context to the world. Did you know Nilfgaard is conquering Temeria? Do you even know what that means? Well if you don't, it's not a big deal. Vesimere will explain. That's a huge change from the previous game, which for some reason hoarded context and made the first few hours a nightmare to understand.