Asus Chromebit CS10 review: What it's like to have Chrome OS in your pocket
Just add a display, keyboard and mouse for a surprisingly handy.Chrome-on-stick experience.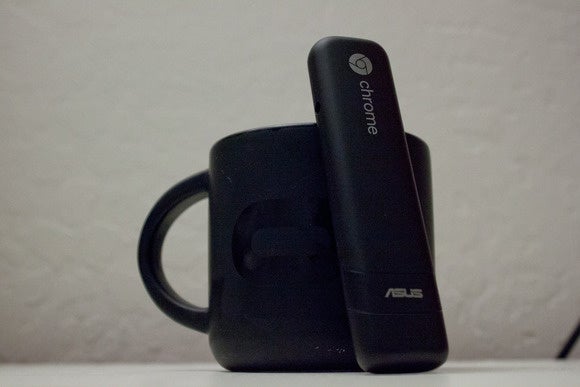 The Asus Chromebit is simply tiny. Credit: Alaina Yee
Who will love Chromebit
Unlike Intel's Compute Stick or even other Chrome OS machines, the Chromebit is actually an easier sell to a wider variety of people. It's not necessarily a replacement for a streaming box or a full Windows PC. Instead, it's a nice complement to the overall ecosystem of gadgets you may already own. For the times that you need more flexibility than a Chromecast for streaming, require only a very dependable, basic, and cheap device for everyday web-based tasks, or want to have both while traveling, you can have it for just $85—that's almost half of what Intel's Compute Stick costs. And unlike Intel's Compute Stick, you won't notice nearly as much compromise in performance.
That said, the Chromebit's struggles with presumably non-optimized streaming video does hint that we'll see it age faster relative to other, more powerful Chrome OS devices. In that way, it is similar to the Compute Stick— a product line that needs internal hardware to catch up to the concept. Subsequent iterations should improve the experience; hopefully, the idea of the Chromebit will survive long enough for that to happen.