Asus GX700 deep-dive: Here's what's inside the world's first water-cooled gaming laptop
This water-cooled laptop doesn't leak. We know, we tried.
When it does get low—and this will chaffe customers—service is not something it wants customers to perform. Instead, the dock will have to sent back to the company for servicing. That's a bummer, but fortunately the laptop still works perfectly fine without the dock.
Inside the GX700
The GX700 relies on a pair of conventional heat pipes for cooling inside the laptop itself. It's easy to confuse a heat pipe with a conventional water-cooling system, but they're not the same, and the water from the dock doesn't actually flow through the system inside the GX700. If Asus did that, the cooling on the laptop wouldn't be effective when not docked.
So Asus used a hybrid system that features dual heat pipes for the GPU and CPU and some kind of proprietary thermal interface that helps the water cooling system suck as much heat out of the heat pipes as possible when you're docked. Here's a look inside the GX700 that helps you understand that the water doesn't actually mix with the heat pipe. This shot also gives you an idea of how the radiators are arrayed in the dock.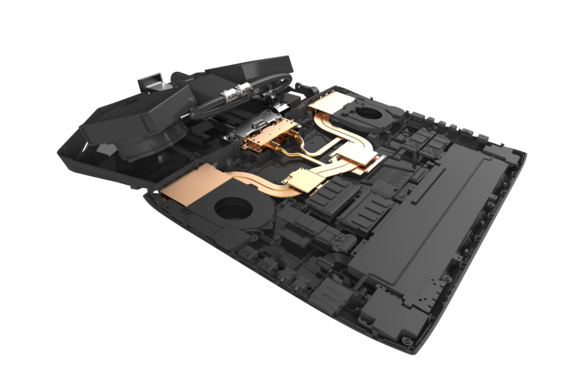 The cooler in the GX700 is actually a hybrid system using heat pipes and water cooling. Credit: Asus
Will a hybrid system like this work? Asus seems to think so. With the laptop docked, the company says you can achieve a 20 percent overclock on the GPU as well as healthy overclocks out of the CPU, as both are water-cooled.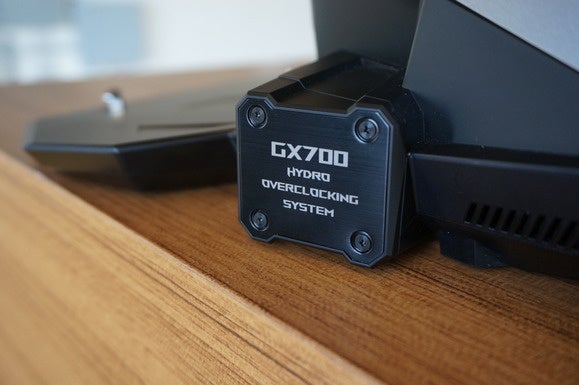 Here's the reservoir for the dock, which Asus said will eventually need maintenance.
What we still don't know about the GX700 is the price or availability. It's expected to hit the streets in time for the Christmas shopping season but the price? Expect it to be pretty penny. This kind of system appeals to a small, select crowd of gamers who want to be cooler than everyone else—and with the GX700, they can actually be water-cooler than everyone else. (Sigh--Ed.)