AT&T's MiFi Liberate: Impressive speed, battery life
The touchscreen is just OK, and suggested media center functions left me unimpressed, but you can't argue with high speeds and long battery life.
I found the experience of using the MiFi as a media server to be a little clunky, and far from plug and play. A mobile hotspot just does not seem like an ideal media server device because of its limited capacity and limited user interface for file management. Moreover, most modern smartphones and tablets offer as much or more memory, so why not just store your media on those? I suppose that if you have large movie files that you absolutely must play back simultaneously on multiple devices, storing them on the MiFi might work.
But for the most part, this function seems like a solution in search of a problem, and not something you'd come to rely on in everyday usage.
The hotspot is GPS enabled so that location information can be shared by connected devices that don't have their GPS capability. OK.
The device can also receive text messages, but, again, why would you want to receive those on your MiFi when you can just receive them on your phone? I suspect that capability is there mainly so that AT&T can send you messages about your data usage and other billing issues.
Impressive connection speeds
One thing you've got to like about the Liberate is the connection speed. The device connected with the AT&T LTE network here in San Francisco quickly, even in some tough coverage environments (basements, parking garages, between tall buildings). A colleague of mine used the device in a crowded exhibit hall at CES (with lots of competing wireless signal in the air) and had no problem connecting at high speeds to file stories and tweet updates.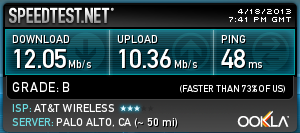 The hotspot consistently pumps out impressive speeds.
Testing here in the TechHive offices in the middle of the workday, I saw average download speeds in the 12 megabits per second (mbps) range, and upload speeds averaging around 10 mbps. However, testing from my home in the evening I saw download speeds routinely approaching the 20 mbps mark, and upload speeds in the 15 mbps range.
This is more than enough speed for fast downloading of music and movie files, and streaming media at high definition rates.
The speed is very important for mobile hotspots, because while the device can connect up to 10 devices at once, all those devices must share the same single pool of cellular data bandwidth tapped by the hotspot.
Epic battery life
To test the battery life of the MiFi we charged it up and turned on the Wi-Fi network, then connected an Origin P170HM laptop to that network. On the Origin we ran a script that kept a constant stream of web pages, movies, and music flowing to the laptop. We then noted the time when the Liberate's battery failed.