Dell's XPS laptops get bigger with the US$999 XPS 15, and better with all-Skylake CPUs
One of the best laptops of the year now comes in two sizes, both equally sweet.
The real surprise for the product line is full Thunderbolt 3.0. Dell integrated Intel's Alpine Ridge Thunderbolt 3.0 controller, giving full USB 3.1 transfer speeds through a USB-C port.
The XPS 15 will feature aggressive pricing down to $999, but there are compromises at that price. A thousand bucks gets you a dual-core Core i3, integrated graphics, 8GB of RAM, a 1920x1080 screen and a 500GB hard drive. Going to $1,200 gets you an upgrade to a quad-core Core i5 chip, 1920x1080 screen, GeForce graphics and a 1TB hybrid drive.
You don't get the Ultra HD until you get to $1,600, which nets you the quad-core Core i5 chip, hybrid hard drive and GeForce graphics.
Dell says the XPS 15 will be 14.06 inches wide and 9.27 inches deep, varying from 0.45 to 0.66 inches at its thickest section. With the smaller battery it'll weight about 3.9 pounds, 4.4 with the larger battery.
Let the ruler contest begin. Apple's current MacBook Pro is listed at 14.13 inches wide, 9.73 inches deep and 0.71 inches thick with a weight of 4.49 lbs. That's kind of a wash in my book but maybe side-by-side it'll seem different. The Dell's panel is slightly bigger, at 15.6 inches vs. the MBP15's 15.4.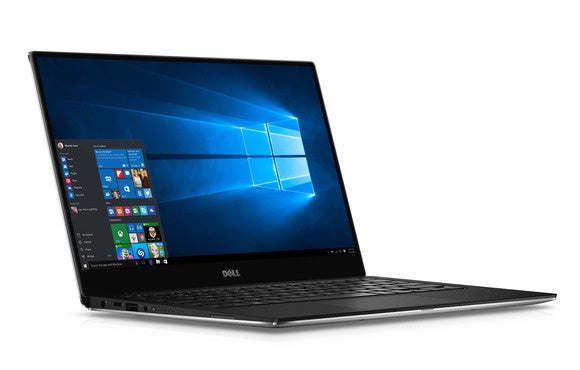 The updated XPS 13 gets Skylake and Thunderbolt 3.0 and yes, they do look alike don't they? Credit: Dell
The XPS 13 gets an interior redesign
Dell gives some love to the much-admired XPS 13, but all the makeover is inside.The main one is the upgrade from Intel's Broadwell CPU line to the latest Skylake CPU line. That means Core i5 and Core i7 dual-core CPUs. Another upgrade is out-of-the-box support for M.2 PCIe SSDs up to 1TB in capacity. Dell also increased the battery capacity slightly from 52 watt hours to 56 watt hours by using a denser battery.
For the cherry on the sundae, Dell now says the XPS 13 can hit an 18-hour run time plus an additional 7 hours using its rechargeable power brick. How exactly Dell pulls this off and what the tests are I don't know but it has my curiosity piqued. Are these internal tests? How bright was the screen?
From my conversations with other OEMs, the battery boost from Broadwell to Skylake isn't much. We'll benchmark it as soon as we get a loaner unit.