Display Dock for new Lumias will cost US$99
Dock helps smartphone replace PC, Microsoft says.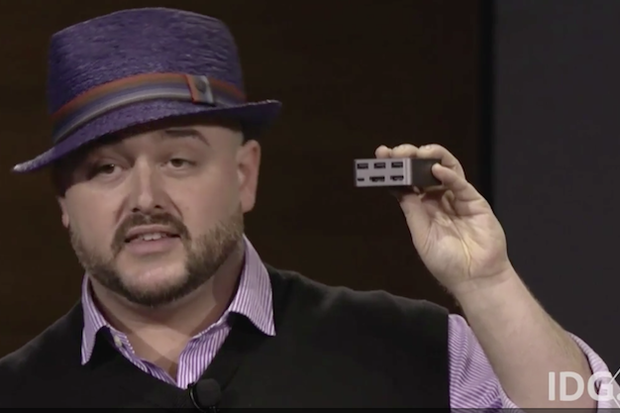 Microsoft marketing manager Brian Roper on Tuesday showed off the upcoming Microsoft Display Dock to give new Lumia phones PC-like capabilities. It features USB-C throughput of 5Gbps and will sell for $99 starting in November. Credit: IDG.tv
Microsoft will charge $99 for an upcoming Display Dock device to connect next-generation Lumia 950 and Lumia 950XL smartphones with full-sized keyboards and large desktop displays, a company spokeswoman told Computerworld late Thursday.
The device, roughly the size of a cigarette carton and with seven different ports, appears like your typical, lowly dock. However, Microsoft marketers have pointed out that the dock can turn a powerful Lumia smartphone into a near-fully functioning PC.
The new Lumia phones, expected to ship sometime in November, will run Windows 10, which is a cross-platform OS that runs on tablets, laptops and desktops as well. With the new OS, Microsoft has promoted the concept of unified apps that can work across various platforms under what it terms the Continuum concept.
The Display Dock will begin a global rollout timed to the sales start of the two smartphones in November and was "designed exclusively for Lumia 950 and Lumia 950 XL and is an optional accessory...estimated to retail for $99, excluding taxes," the Microsoft spokeswoman said in an email. Cables to connect to the dock will apparently cost extra.
The dock will be sold through the vendor's online store and Microsoft retail stores, partner operators and some other resellers and retailers, the spokeswoman said. Pricing for the Lumia 950 and 950 XL will start at $549 and $649 for 32GB versions, respectively, Microsoft vice president Panos Panay announced in a two-hour debut on Tuesday.
Also at that event, CEO Satya Nadella called the two phones "the most productive on the planet," adding, "You can run your entire business on them. In developing markets, they can be your first or only computing devices."
Not everybody agrees that a pocket-sized smartphone can soon take the place of a laptop or desktop to power an entire business, but Microsoft's Display Dock seems to be the Redmond, Wash. vendor's stepping stone to getting there. A big question remains as to whether independent Windows 10 developers can build enough Continuum apps fast enough, analysts have said.
Microsoft marketing manager Brian Roper demonstrated the Display Dock at the Tuesday event, showing it is possible to interact with the phone's interface through a full-size keyboard, mouse and large desktop display connected to the Display Dock.
"I can use my phone like a PC," Roper said, demonstrating how he pulled up the phone's start screen on the larger display, then used desktop keyboard shortcuts to switch between Office apps. He also grabbed images and PowerPoint presentations from a thumb drive, through the dock, and was able to change a highlight color from purple to black by using the processing power of the Lumia device.