Do something with those phone photos: Six apps that turn your pictures into memories
Here are six apps that can help you turn your phone photos from forgotten, hard-drive-space-wasters into cool, shareable memories.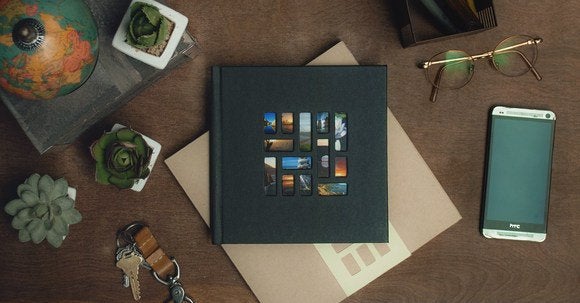 Thanks to our smartphone obsession, we're taking more photos now than we ever have--but where are those photos going?
Maybe we're uploading them to Facebook, Twitter, or Instagram. Maybe we're sharing them with our friends and family via text message and email. Or maybe they're just sitting in our Camera Rolls, unseen and completely forgotten about...until we have to go back and delete them because we want to download a new app and our hard drive has no more space.
It's time to get those photos off of your phone and somewhere they can be seen, whether that's in an email, on social media, or on a physical piece of paper in a physical book. Here are six apps that can help you turn your phone photos from forgotten, hard-drive-space-wasters into cool, shareable memories.
Story
If you're looking to tell a story with your photos and videos, Disney's Story (free; iOS) can help you do it. Story connects to your Camera Roll and lets you pick up to 20 photos and two video clips to combine into a short, shareable slideshow set to music. The app is easy to use and, best of all, not entirely Disney-centric (though there are a handful of Disney themes, if you want to go that route).
I like Story because it's easy for even the least tech-savvy people--such as my mother--to use. The app starts out by pulling photos and video clips from your Camera Roll and grouping them by date and location into "suggested memories." This way, you don't have to go looking for individual photos from a trip or event--they're all right there, organized into convenient photosets. Of course, if you'd prefer to hunt down photos individually, you can do so by tapping "select from your Camera Roll."
Once you've chosen your photos and clips, you can start setting up your slideshow. If you're looking for a quick slideshow, choose a theme (there are several free, simple themes, as well as a handful of premium themes that cost $2 each) and the app will pre-arrange your photos and set them to music. You can also tweak the music, add captions, or tap photos to remove them, replace them, or crop them. You can preview your slideshow at any time, and when you're finished you'll have the option of sharing your story via email, Facebook, Twitter, or Pinterest.
Magisto
If your phone is rife with video clips, you'll want to check out Magisto (free; Android, iOS, and Amazon Appstore), a "magical" video-editing app that's like Story for video clips. Magisto takes your clips and photos and stitches them together into a polished, shareable 1-minute clip, complete with cool transitions, video effects, and music.