Droid Turbo 2 review: A souped-up smartphone marred by carrier bloat
Motorola's powerful smartphone would be better off if it were freed from Big Red's shackles.

It's scuffed, but the screen is still intact. Credit: Florence Ion
I threw the Turbo 2 around my backyard: at a tree, on the concrete floor. The display was fine, but the rest of the chassis got scuffed up. It's the display that's the important part, though, because that's what keeps you using your phone. If you have a habit of dropping your phone on the ground, repeatedly, then you want a smartphone that can handle it. I'd rather drop the Turbo 2 than a Samsung Galaxy S6 Edge—which I dropped over Thanksgiving weekend, and it did not fare as well.
As for the Droid Turbo 2's Quad HD display, its color profiles are a bit too saturated for my liking. The display is also too dim; it's no fun trying to turn up the brightness on this phone when you're outside in direct sunlight.
Great performance marred by carrier bloat
According to our benchmarks, the Droid Turbo 2 is one of the more powerful Android smartphones available. But does that really matter if the phone is riddled with bloatware and extra applications that Verizon has forced on its customers?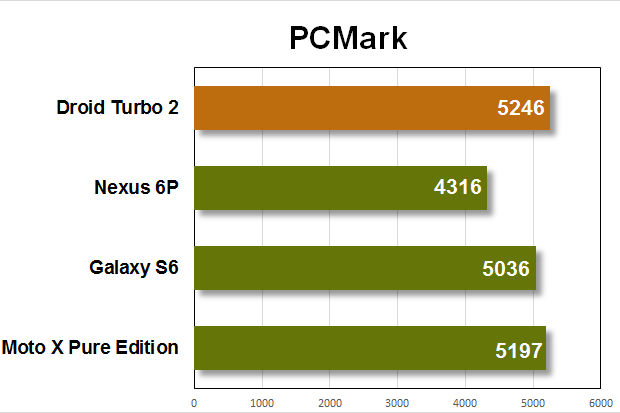 In PCMark, which tests for typical smartphone activities like browsing the web and editing video, the Droid Turbo 2 performed not much better than the Moto X Pure Edition with a Snapdragon 808. Click on image to enlarge.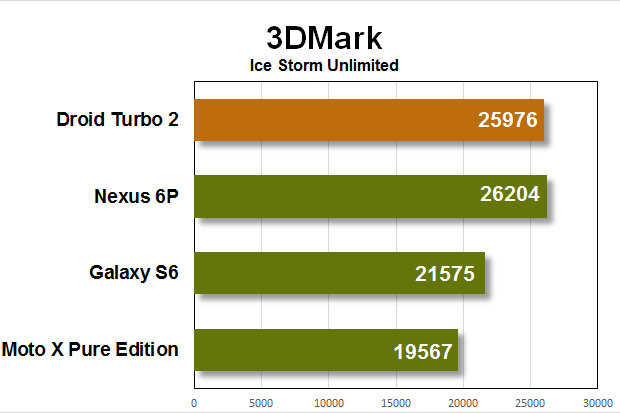 In 3DMark, the Turbo 2's graphics performance was on par with the Nexus 6P—which makes sense, considering they run the same SoC. Click on image to enlarge.
Let's take a look at the benchmarks first: the Droid Turbo 2's 2GHz Snapdragon 810 processor and 3GB of RAM performed on par with the Huawei-made Nexus 6P, which has the same specs. Its interface is overall speedy and responsive, and startup doesn't take very long. There were some instances of lag, particularly when I was in a bad coverage area or my router was acting up, but otherwise everything ran smoothly on the Turbo 2.

Ugh. I count three Verizon-branded apps just on this one apps page. Credit: Florence Ion
However, I can see the user experience turning sour after a period of time breaking in the Turbo 2. I typically wait until the end of the review to discuss the software bundled with each device, but this is one of those situations where the carrier is using an exclusive product to hawk it's pointless bloatware, and it's not okay.
Previous Page 1 2 3 4 Next Page