Droid Turbo 2 review: A souped-up smartphone marred by carrier bloat
Motorola's powerful smartphone would be better off if it were freed from Big Red's shackles.
The Droid Turbo 2 comes with a tweaked version of stock Android 5.1.1 out of the box, and it's preloaded with so many applications, including Verizon's visual voicemail, cloud backup, messaging, and maps applications, as well as NFL Mobile, all of which you cannot delete off the device. The phone also comes bundled with games like Sugar Smash, Empire, and Game of War. Those apps are removable, but the last time I saw a phone with that much extra software, I was getting a serious discount on the price.
You'll also have access to Motorola's software goodies like Moto Display, which lets you glance at the time and notifications without turning on the screen, as well as Moto Voice, which enables the device's always-on listening capabilities. I've been living without these features just fine, and though I appreciate Motorola's insistence on adding a bit more value to its devices, it's hard to ignore all the Verizon applications clogging up the phone. This practice really has to stop.
At least it lives up to its battery claims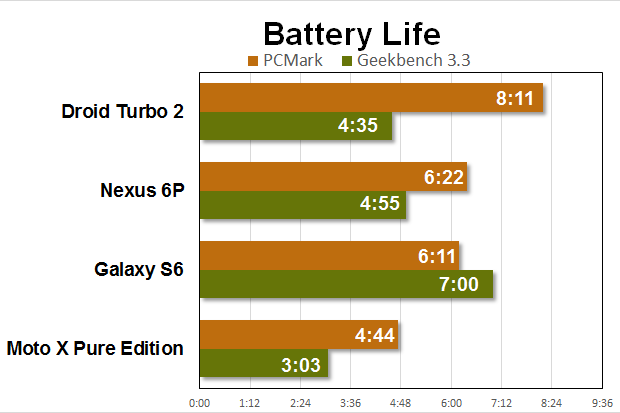 The phone lasts a really long time. Click on image to enlarge.
If you're looking for a phone with the longest battery life, the Droid Turbo 2 is worth your consideration—bloat and all. Its 3760mAh battery pack lasted a whopping hour and a half longer than the Moto X Pure Edition GeekBench battery test, and four hours longer in our PCMark battery test. The Turbo 2 did really well on standby, too, and lasted through an entire weekend of mixed usage without requiring a charge.
When the phone does eventually cry out to be plugged in, the Turbo 2's "Turbo Charge" feature is ridiculously fast—Motorola advertises that the phone can charge enough battery power to last 13 hours in just 15 minutes. I didn't directly test this claim, but it's nice seeing other manufacturers following in Samsung's footsteps with faster charging capabilities. The Turbo 2 offers Qi-compatible wireless charging, too.
The best Motorola camera

With plenty of light, the Droid Turbo's 21-megapixel camera soars.

But when the light is low, I'd rather bring with me another phone more prepared for the task.
It took Motorola a bit of time—several years, in fact—to deliver a quality camera experience in its Android phones. I'd like to think that every manufacturer decided to kick it into gear this year and get their phones packed with decent cameras. There's too much of life to be enjoyed, and no one likes to go on without a camera to capture those memories.
Previous Page 1 2 3 4 Next Page