Droid Turbo 2 review: A souped-up smartphone marred by carrier bloat
Motorola's powerful smartphone would be better off if it were freed from Big Red's shackles.

Hey Santa. You're a little blurry there, buddy.
The Droid Turbo 2 features the same Sony-manufactured 21-megapixel rear camera with an f/2.0 aperture lens as the Moto X Pure Edition. It's a capable camera phone when there's plenty of light out, but it's not the best nighttime photo companion. I took it out with me to participate in my small town's Christmas tree lighting ceremony and I'm a bit disappointed I didn't think to bring a backup camera—like the LG V10, with full manual controls. The nighttime photos I took with the Turbo 2 were a little blasé for my liking—or for sharing with the Internet.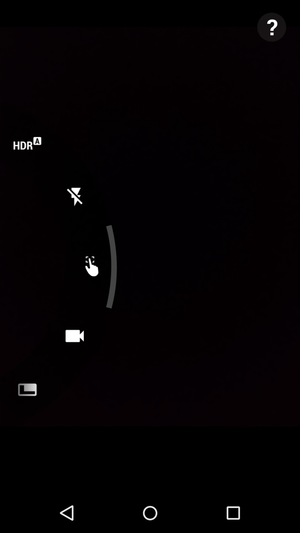 Moto's camera app is too barebones and too annoying to use.
Also, I absolutely abhor the interface for Motorola's camera app. First off, it's too oversimplified, and I like to have a dedicated shutter button rather than tapping on the screen to shoot a photo. Second, by default the Motorola camera app shoots in 16:9 at 16-megapixels, which I didn't realize until I had done a little digging in the menu. What's the point of advertising 21-megapixels if it's not even on by default?
Too much Verizon

Hello, Moto. Credit: Florence Ion
I anticipate that Verizon will sell plenty of Droid Turbo 2s because, rather than steer customers towards a bloat free, simple Android experience, they'll point them towards a phone like this that puts its apps and services front and center.
That's a problem for Motorola: it allows Verizon to control the marketing for its most powerful device rather than sticking with its mantra of keeping it simple, customizable, and unlocked. By holding on to the Droid branding, Motorola is exhibiting a bit of a identity crisis. Why bother selling any of your phones unlocked online if your most impressive device is tethered to Big Red? To get Verizon more customers? It doesn't need that.
The Droid Turbo 2 is a fantastic device, but I'd caution you against it out of sheer principle—and all the software maintenance you'll have to do before you can use the device, like deleting applications and disabling Verizon's bloatware. And if I can't convince you to stick it to the man, then I suggest you wait until the phone is on sale before Verizon suckers you into spending $250 over the cheaper, unlocked Moto X Pure Edition.
It really is a shame, because a high-end phone that performs this well and has such fantastic durability and battery life could please a lot of customers. And outside the U.S., where this phone is sold unlocked and free of carrier bloat as the Moto X Force, I expect that it will.
Previous Page 1 2 3 4