Emtec Connect Wi-Fi HDD review: Spacious portable storage with compromises
The free Emtec Connect app for iOS or Android provides easy, if not exactly intuitive, access to media and documents stored on the hard drive.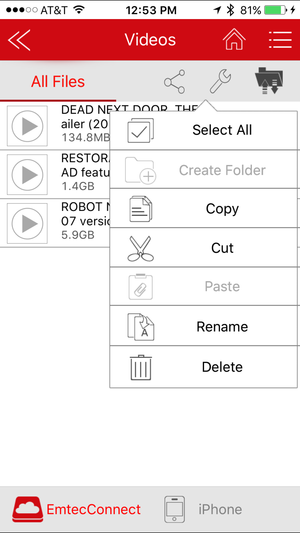 Emtec Connect uses somewhat archaic copy-and-paste commands to organize hard drive content.
The app is also fairly restrictive about how it displays content—videos, music, photos, and documents must be stored in their respective Share folders or they won't show up from the main menu; thankfully, there's a File/Folder view, which can be used to access anything on the drive.
Smaller files like photos and documents can be shared directly via Facebook or email; opening in other iOS apps is also supported with a long press on any file. Emtec has paired well-made hardware with a functional, if unspectacular, companion app, but has yet to update it with native iPhone 6 display support.
Bottom line
Considering a regular portable hard drive with the same storage capacity can be had for half the price, Emtec's Wi-Fi HDD P700 is an expensive accessory. But until Apple warms up to native support for external storage, this is as solid external mobile storage device.