Forget the stickers: iOS 10 turned iMessage into a platform, and that's more important
Messages in iOS 10 opens to developers for the first time. That's major.
Apple's big changes to Messages in iOS 10 seem mostly cosmetic: Giant emoji, full-screen fireworks, handwritten scrawls across photos and videos, and stickers galore. These are features lifted straight from Facebook Messenger, Snapchat, Line, and all the other messaging apps that are resonating with teenagers and, even if they won't admit it, their parents. But the biggest change to Messages is more behind the scenes. Facebook Messenger and WeChat are taking over the world, but Apple's decision to open up iMessage to developers makes it clear that the company isn't yielding to the dominant messaging apps—in fact, it has an advantage.
Apple's iOS 10 demo at last week's Worldwide Developers Conference keynote was full of brand-new features, but Craig Federighi, Apple's senior vice president of software engineering, devoted a large chunk of time to changes coming to the Messages app. If you've used any other messaging app in the last few years, most of the flair coming to Messages looks more than a little familiar. iOS 10 gives Messages some signature Apple style, like an invisible ink feature that blurs your photos and texts and has to be swiped away, but the improvements are familiar.
But Apple's decision to turn iMessage into a platform is more significant than all the Snapchat-like effects that have garnered the lion's share of attention, because third-party apps can now be used to enrich your messages without ever leaving the Messages app. It's the Facebook Messenger approach, but more refined.
The new iMessage app drawer
The new iMessage software development kit allows developers to build extensions that bring their app experiences directly into Messages. In iOS 10, you can access third-party messaging apps from the iMessage App drawer. Just tap on the App icon next to the blank text field to find apps and create content that you can share straightforwardly in-app.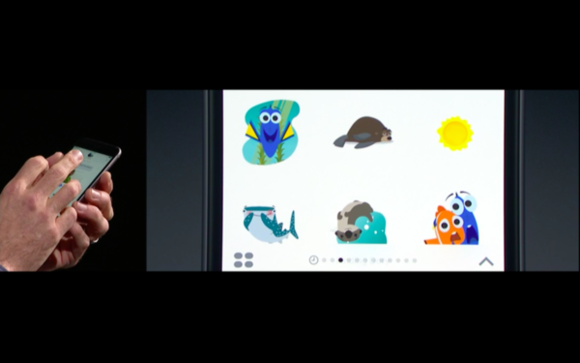 Finding Dory stickers are just the beginning.
Federighi used a funny image creation app called JibJab to demonstrate the features in his WWDC demo. JibJab lets you create and share e-cards with people, and the iMessage extension allows you to select from a gallery of faces in your Camera Roll and drop a friend's face on a JibJab GIF. When you share that image with someone, it will appear in the same iMessage conversation with a button beneath the image to install JibJab. Whereas Facebook Messenger would kick you to the App Store to finish downloading the app, in iMessage, you'll remain inside your conversation. JibJab will appear in the new iMessage app drawer, which you can open without ever leaving Messages. That seamless installation process is huge for developers, JibJab cofounder and CEO Gregg Spiridellis told me.