Galaxy S7 expected to have faster processor, return of storage slot
Samsung also reported to be lowering smartphone's price as its market share dips .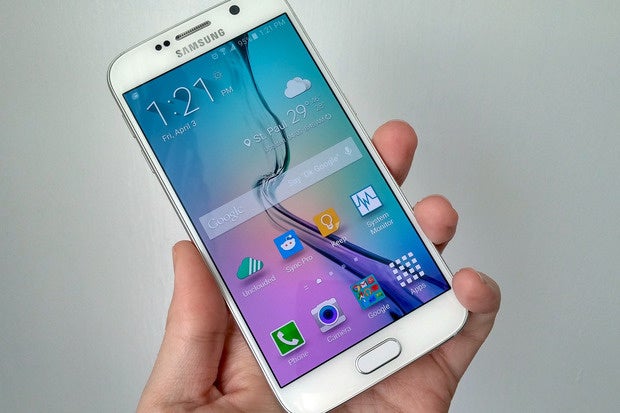 Samsung may be adding a faster processor and an SD slot to its upcoming Galaxy S7. It may also sell the phone for a lower price than the S6, shown here. Credit: Samsung
Samsung's next flagship Galaxy smartphone, the S7, is expected to be announced next year amid predictions that it will have the faster Snapdragon 820 processor and will restore the storage expansion slot.
What's more, the Galaxy S7 may be priced as much as 10% less than the Galaxy S6 when it was introduced in March. A lower price, alongside a dramatic improvement in performance, could help Samsung's sagging global market share, now at about 21%, down from 32% two years ago, according to IDC. The Galaxy S6 started at $600 to $685 off-contract, depending on the U.S. carrier.
"Many people were angry about Samsung removing the SD card in the Galaxy S6, but I believe we will see that come back to the S line with the S7," said Patrick Moorhead, an analyst at Moor Insights & Strategy, in an interview on Monday.
The Qualcomm Snapdragon 820 for the Galaxy S7 would only run on versions of the phone sold in the U.S. and China, with other versions sold elsewhere running Samsung's own Exynos 8890, according to various reports based on leaked model numbers of the Galaxy S7. The leaks make the reports of an 820 chip more reliable.
Moorhead said the 820 offers a dramatic improvement over previous Samsung Galaxy smartphones and could pose a challenge to the Apple A9 system on a chip used in recent iPhones.
"This is not just a classic improvement in the next-generation smartphone feeds and speeds, but a dramatic improvement and Qualcomm talked about doubling the performance per watt on this card," he added. The improvement will benefit virtual reality (VR) as well as streaming media and Web-based media. "It is really a big deal," he added.
Qualcomm introduced the 820 in November, but neither the chip maker nor Samsung have officially confirmed it will be used in the Galaxy S7. Qualcomm described the 820 as offering faster LTE upload and download speeds as well as better graphics performance, with an Adreno 530 processor and a 2.2 GHz, quad-core 64-bit Kryo central processing unit.
Using a widely known benchmarking test from Geekbench, the 820 with quad cores received a 5423 performance score, compared to 4454 for the Apple A9, according to reports.
With a faster 820 helping video streaming and VR, the addition of a micro SD slot in the S7 would be valuable, Moorhead said. "It was particularly dumb to remove the slot in the S6 given the emergence of 4K video on smartphones," Moorhead said. Ultra-high definition video, also called 4K, will require a "monumental amount of storage," which can be stored on a 128GB micro SD card, or even larger ones coming to market.