Google Pixel C review: A killer Android tablet with an unfullfilled productivity mission
A great hardware keyboard telegraphs the Pixel C's intentions. Now Google just needs to make Android a productivity OS.
The Pixel C, Google's new ultra-premium Android tablet, has unfinished business. Yes, it's chiseled from a sumptuous hunk of anodized aluminum and boasts a gorgeous, super-high-res display. And, yes, it's packed with top-shelf silicon that delivers palpable performance dividends.
It also runs a pure, unencumbered build of Android Marshmallow. That makes it bloatware-free, and the recipient of Google's most timely OS and security updates. But Google is positioning the Pixel C as a halo device for Android's productivity features—and in this mission, this productivity mission, the tablet falls short.
The Pixel C's most interesting hardware feature is a $149 keyboard accessory that magnetically attaches to the bottom of the tablet. Google's unspoken productivity message is loud and clear: Look at how much you can do in Google Docs now that your tablet has a proper keyboard. But while it's a really good keyboard, it's married to an overall tablet experience that hasn't been deliberately optimized for work scenarios.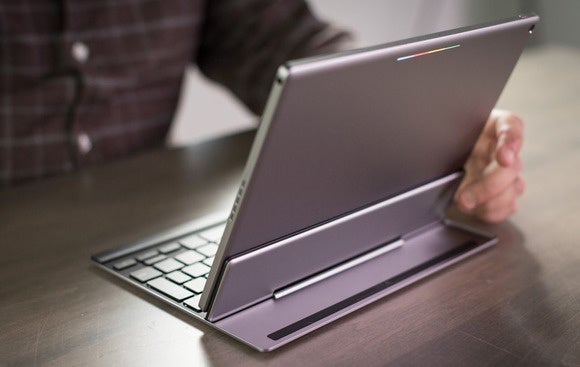 Killer industrial design? Check. Useful keyboard accessory? Check. Credit: Adam Patrick Murray
It's a shame, because the Pixel C ($499 for 32GB and $599 for 64GB) is nearly state-of-the-art hardware. The only feature it really lacks is the same awesome fingerprint sensor that's found on the Nexus 6P and 5X. This is a disappointing omission, but if you're looking for a pure Android tablet, know that the Pixel C is a more generously appointed device than the Nexus 9, whose 32GB version costs only $20 less than an equivalent Pixel in the Google store.
However, if you need a no-compromise productivity tablet, and don't care about the OS you're running, then you'll probably do better with hardware from Microsoft, Apple, and even Samsung. Their tablets are all better suited for multitasking and other productivity scenarios.
If you want to know how the Pixel C performs as a workhorse, jump to the section titled "Love the keyboard—but is that it?" For now, let's get into the tablet's industrial design.
Sublime industrial design—with pretty lights
When paired with the keyboard, the Pixel C looks like a miniaturized version of the Chromebook Pixel, borrowing the same winning design cues from that Chrome OS laptop. The tablet's aluminum cladding has a premium, satiny feel, and the body's gentle lines and curved corners feel great in the hands.
And, yes, that's hands, plural. At 9.5 inches wide and 1.14 pounds, the Pixel C feels chunky compared to the slightly smaller and lighter Nexus 9, and unless you have really big hands, you won't be able to thumb type on Google's stock soft keyboard. That said, the Pixel C didn't flex when I did my best to torque, twist and otherwise torture the chassis. I can't say the same for the Nexus 9, which creaks and bends under pressure.