Google Pixel C review: A killer Android tablet with an unfullfilled productivity mission
A great hardware keyboard telegraphs the Pixel C's intentions. Now Google just needs to make Android a productivity OS.
In PCMark's Work Performance test, Samsung's Galaxy Tab S 9.7, a natural competitor, achieves a spectacular 5840. But the Pixel C trounces that score with a 6711. And take a look at the 3DMark gaming test results in the chart below. The Pixel C obliterates the competition. Test after test after test, the Pixel C made other Android devices look like dated technology.
Google says the Pixel C delivers over 10 hours of real-world battery life, and anecdotal use suggests the tablet's high-performing silicon and demanding display don't suck an inordinate amount of juice. But, unfortunately, we weren't able to verify the lifespan of Google's 34.2 watt-hour battery with PCMark—the benchmark repeatedly failed to complete its rundown test. We'll update this review once we get a test result.
The Pixel C charges relatively quickly via its USB Type-C port. I don't mind that Google is going with the newfangled charging spec, especially because I have a growing collection of 15W charging adapters, thanks to my Nexus 6P daily-driver smartphone.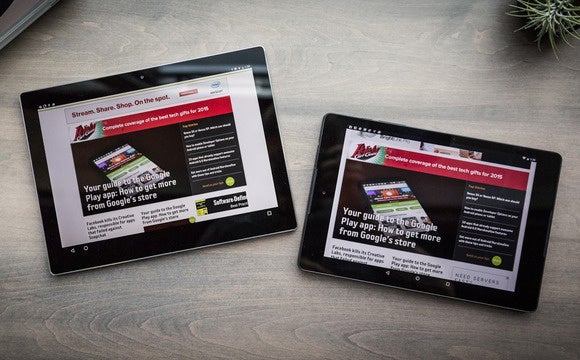 If you want a pure Android tablet, know that the Pixel C (left) is larger, comes with a better display and processor, and costs only $20 more than a Nexus 9 (right) with the same storage capacity. Credit: Adam Patrick Murray
Besides that lone USB port, the Pixel C also features four mics for far-field voice input. It's a great idea, but I found the Nexus 6P to be far more responsive to "OK Google" voice commands from more than a few feet away.
Besides an 8MP rear camera and 2MP front camera—neither of which we care too much about because, er, this is a tablet—the only other outward-facing components worth mentioning are two stereo speakers on either side of the Pixel C's aluminum chassis. Their output is tinny, but notably high volume. The excellent front-facing Boomsound speakers on the Nexus 9 have much warmer sound, but don't crank nearly as loud.
Love the keyboard. But is that all she wrote?
The Pixel C Keyboard might cost $149, but it's a more substantial piece of kit than the $130 Type Cover for Microsoft Surface devices. It's also a far better input device than the $169 Smart Keyboard for iPad Pro. The Pixel C keyboard offers a generous 1.4 mm of key travel, and just feels exceedingly well-prepared for use and abuse.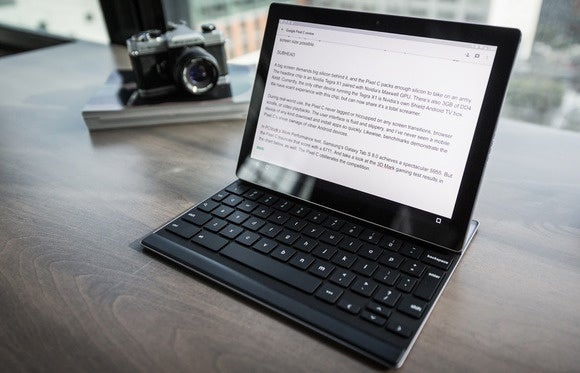 When you're typing in Google Docs—and only typing in Google Docs—The Pixel C delivers. Credit: Adam Patrick Murray
Previous Page 1 2 3 4 5 Next Page