Google Pixel C review: A killer Android tablet with an unfullfilled productivity mission
A great hardware keyboard telegraphs the Pixel C's intentions. Now Google just needs to make Android a productivity OS.
Google's keyboard attaches to the Pixel C via a magnetic interface that bonds the two pieces together in a confidence-inspiring grip. Just try shaking the tablet with the keyboard attached: You have to throttle the Pixel C like a paint mixer before the keyboard even threatens to fly off. The two sides communicate with each other over Bluetooth LE, and the keyboard charges inductively whenever it's attached to the tablet during a charging cycle.
When cradled in the keyboard, the Pixel C's screen tilts from 100 degrees (basically fully upright) to 180 degrees (though it stops being useful after about 135 degrees). We love the continuous range of motion, and once you choose a tilt angle, the screen stays put.

Once you choose a tilt angle, the Pixel C doesn't budge from where you set it. Credit: Adam Patrick Murray
If we have any criticisms at all, it's the keyboard's lack of backlighting and truncated key layout. The letter and number keys are perfectly fine, but this isn't a full-size keyboard. Some keys (like the rando bracket and pipe keys) are missing, and some are smaller than standard. The right-side backspace, enter, and shift keys—each comically small—caused a few misfires during typing.
Regardless, the keyboard is a great productivity tool. And some day, when Google updates Android with a few key features, the Pixel C will be kickass productivity tablet as well.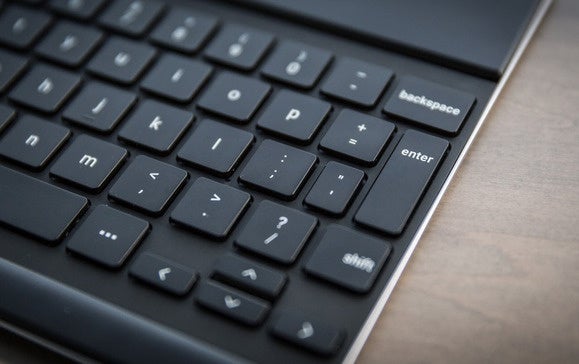 Mind the wee backspace, shift and enter keys. They're smaller than standard-issue keys. Credit: Adam Patrick Murray
Most glaringly, Android still doesn't include any type of multi-window mode that let's you use two apps side-by-side at the same time. This feature is buried deep in Marshmallow's source code, but Google still hasn't activated it for general consumer use. It's a shame that home screen-level multitasking wasn't released alongside the Pixel C, because multi-window is a headline feature in Microsoft, Apple, and even Samsung productivity tablets.
And this ties into my overarching Pixel C complaint: The tablet hardware itself is awesome, but aside from the keyboard, the Pixel C doesn't really feel like a "productivity tablet" as we've come to know them in 2015. There's no multi-window support. There's no pen support. Google Docs remains exactly the same as it did yesterday, even though it's crying out for customized synergy with the Pixel C experience.
In short: There are no new surprise-and-delight productivity features that say, "We're Google, and we've just made Android even more useful for getting things done."
Previous Page 1 2 3 4 5 Next Page