Google Pixel C review: A killer Android tablet with an unfullfilled productivity mission
A great hardware keyboard telegraphs the Pixel C's intentions. Now Google just needs to make Android a productivity OS.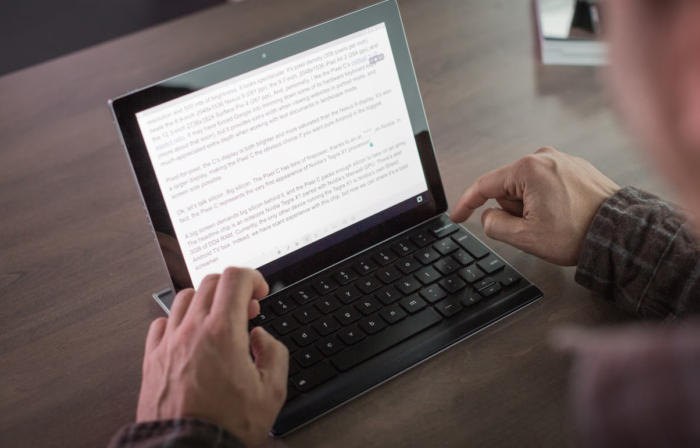 Lacking any type of multi-window function, your stuck in a single app. Credit: Adam Patrick Murray
Sure, Google Now On Tap is built directly into Marshmallow, and it's a great tool for running contextual information searches in a wide variety of apps. I love it—but it's not a game changer. Even worse, throughout testing I was continually annoyed by Chrome constantly defaulting to dumbed-down mobile views of my favorite websites. Even the Nexus 9, with its smaller screen, shows full desktop views of the exact same sites. The Pixel C is supposed to be a productivity tablet, yet it makes surfing the web a more tiresome, un-productive affair.
In sum total, the Pixel C cries out for a new Android software experience to complete its productivity story with a dazzling payoff. Indeed, if it launched with multi-window support, it would have earned a 4.5 verdict, or perhaps even a perfect score. This despite the fact that some of us at Greenbot and PCWorld feel it's just a bit too heavy compared to Samsung's 9.7-inch Galaxy Tab S2—which does do multi-window.
Am I being too harsh? I don't think so. This is a Pixel, damn it. Google has complete control over the manufacturing and user experience, and as the company states in its reviewer's guide, "We create Pixel products when we see an opportunity to rethink an experience inhouse and design a new type of technology that will support and inspire the partner ecosystem." It's a lofty goal, but in this case, it seems the Android and Docs teams weren't invited to the rethinking party.
But make no mistake: The hardware itself is superb. If you want a pure Android tablet, this is the one you buy. And because it's pure Android, it will be one of the first tablets to run Google's version of multi-window when that feature finally exits development and is pushed live to the world.
Previous Page 1 2 3 4 5