Hands on: Microsoft's Surface Book is a stunner as both a tablet and a laptop
The incredible specs make up for a bit of awkwardness in how it all fits together.
Microsoft calls the new Surface Book two-in-one the "ultimate laptop." As a 2-in-1, it's more than that. Undocked, the Surface Book is a massive 13.5-inch 3K tablet. Dock it to its base and it becomes a notebook capable of gaming, complete with its own discrete Nvidia GPU. And it's twice as powerful as the MacBook Pro.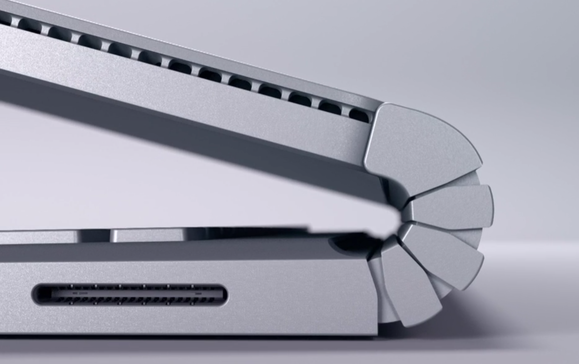 The special hinge on the Surface Book can perform all kinds of interesting tricks.
The secret? A flexible, articulated hinge that stabiliizes the entire laptop, allowing it to recline and fold forward like a regular laptop, and fold backward to a comfortable angle. In terms of flexibility, the Surface Book doesn't quite match up to the Surface Pro 3. But that's forgiveable, given its other advantages.
All told, the Surface Book reminds me of the Chromebook Pixel: the premier example of what its ecosystem can achieve. Surface Book will command a premium price, as well: $1,499 for the base Core i5 model, $1,899 for the core i5 model with the discrete GPU, and $2699 for a full-boat Core i7 model with discrete GPU. Preorders are already underway, and Microsoft promises you'll have it by Oct. 26.
Wow. Wow. A 3K tablet that converts into an honest-to-god notebook, complete with a discrete GPU and a full terabyte of storage. PCWorld staffers immediately began lobbying for a Surface Book to replace their work-issued laptops.
Hands on: What's not to love?
As a refresher, here's a quick rundown of the Surface Book's specs: The 13.5-inch, 3000x2000-pixel display uses Microsoft's PixelSense technology, which supposedly does a superior job with finger, stylus, and palm detection. Inside is a 6th-gen Intel "Skylake" chip, either a core i5 in the base models, or a Core i7 in higher-end models. An undisclosed Nvidia GeForce mobile graphics processor is available in select core i5 and core i7 SKUs. You'll have your choice of either 8GB or 16GB of RAM, and 128GB, 256GB, 512GB or a full terabyte of SSD storage. Microsoft also promises a full 12 hours of battery life.
You can't help but love the specs. But I found the Surface Book a bit awkward while converting it from laptop to desktop mode.
The older Surface tablets connect to the Type Cover keyboard via fabric hinge. It works pretty well, but there's always a tiny bit of flex. Worse still is the kickstand, which Microsoft has never quite figured out how to prevent it from digging into your thighs. The hinge solves all that, holding the monstrous tablet securely. It doesn't wiggle. Internal, toothlike hooks help secure the tablet to the base.